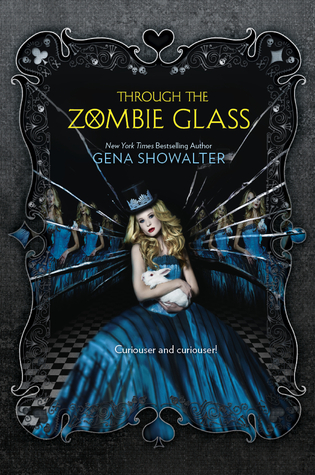 Name:
Through the Zombie Glass (The White Rabbit Chronicles #2)
Author:
Gena Showalter
Number of Pages:
480
Publisher:
Harlequin Teen
Date Published:
September 24th, 2013
Source:
Bought
Rate:
5/5
Zombies stalk the night. Forget blood and brains. These monsters hunger for human souls. Sadly, they've got mine...
Alice Bell has lost so much. Family. Friends. A home. She thought she had nothing else to give. She was wrong.
After a new zombie attack, strange things begin to happen to her. Mirrors come to life, and the whispers of the dead assault her ears. But the worst? A terrible darkness blooms inside her, urging her to do very wicked things.
She's never needed her team of zombie slayers more, but ultra bad-boy Cole Holland, the leader and her boyfriend, suddenly withdraws from her...from everyone. Now, with her best friend Kat at her side, Ali must kill the zombies, uncover Cole's secret and learn to fight the darkness.
But the clock is ticking...and if she fails at a single task, they're all doomed.
* This will contain spoilers from the first book Alice in Zombieland: Check out my review here*
[GOODREADS][AMAZON][B&N]
You know a book is the fricken bomb when you sit down and finish the book in 5 hours straight! I think the only time I truly got up to eat and use the bathroom...I was just too captivated to put it down!
We were left off in Alice in Zombieland with Alice and the defeat of the first huge battle with the zombies, along with the development of Alice and Cole's relationship. However, things are about to get darker for Alice not just in reality but in her own mind. Sta
rting to see red eyes in the mirror and the urge to bite anyone that came near her; Alice is starting to come to fear her own self and start to fear for the safety of her new found family.
I truly enjoyed the development of Alice in the second installment of the White Rabbit Chronicles - Through the Zombie Glass. Everything that she was feeling - the anger, hurt, fear, hunger - you truly felt. The most prominent feelings that you start to notice is her devotion to Cole and their relationship. Of course, there is this deeper hunger that is starting to gnaw deep within her!
Although I never mentioned this in my last review, I will now. One of my favorite second characters within in this book is Kat, Alice's bestfriend. She truly made up this whole book. Kat was always supportive, strong, stubborn, and so flippin sarcastic. She became the perfect best friend for Alice, as Alice is more introverted; Kat is so much out going that one can't help but love her. I think what truly brought them together was Alice informing Kat in the previous book of what she was and what she fights for.
I think the most frustrating aspect of this book was Cole and Alice relationship...I won't say much but oh my flipping goodness WHY! Just why did you do this to mee!!!
As for the plot I could never be more pleased. It was sexy, badass, and downright sarcastic which is true to Gena Showalter's writing. The plot becomes so thick in Through the Zombie Glass that putting it down almost became impossible. I almost considered skipping dinner just so I did not have to set this precious, angering, frustrating, amazing book down. There are so many things revealed and introduced throughout the plot that I was never left unsatisfied.
If you have not read this book yet, my suggestion is pick it up right now! Or I will come after you with my zombie army...
Buy it!