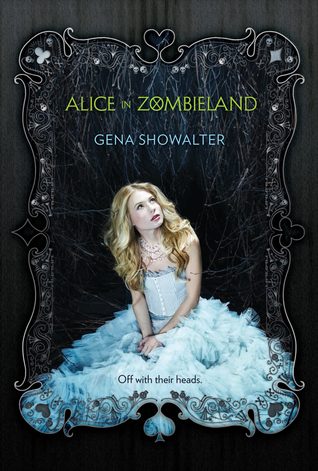 Name:
Alice in Zombieland (The White Rabbit Chronicles #1)
Author:
Gena Showalter
Number of Pages
: 404
Publisher:
Harlequin Teen
Date Published:
September 25th, 2012
Source:
Bought
Rate:
5/5
She won't rest until she's sent every walking corpse back to its grave. Forever.

Had anyone told Alice Bell that her entire life would change course between one heartbeat and the next, she would have laughed. But that's all it takes. One heartbeat. A blink, a breath, a second, and everything she knew and loved was gone.

Her father was right. The monsters are real.

To avenge her family, Ali must learn to fight the undead. To survive, she must learn to trust the baddest of the bad boys, Cole Holland. But Cole has secrets of his own, and if Ali isn't careful, those secrets might just prove to be more dangerous than the zombies.
[GOODREADS][AMAZON][B&N]
Woowza does Gena Showalter know how to write a master piece! I honestly cannot believe I did not pick this book up sooner, I mean I wish I picked it up the moment it came out! What is wrong with me! Gena has written a compellingly mad story with twists and turns around every turn and I could not be more pleased with how it turned out!
I at first thought that this would be another retelling of Alice in Wonderland with some zombie twists and it was nothing of the sort. Which is perfectly okay with me, as I was not a fan of Alice in Wonderland. However, I did pick up on a few Alice in Wonderland traits such as: the white rabbit, the title of the book, and even the title of the chapters.
All Alice wanted was a normal birthday for one. She did not want to be locked up in the house like they usually were, she just wanted to give her sister something as a birthday gift for herself. However, what she did not know was the consequences of her decisions. Alice has lived with a deranged father for years - thinking he can see the monsters that lurk beyond the household - and she would like nothing more than to escape the strangeness. Heck, she is afraid to date anyone in fear that they would be embarrassed to be seen with her!
Alice, truly was everything a female protagonist should be! She was smart, she had a goal, and she wanted revenge. I loved every moment of hers. Alice was one of those characters were you could honestly picture her right in front of you and see every detail of the anatomy down to the last freckle. Alice's story is very compelling, she has been dealt a fatal blow and the only thing she wants now is to find out if she is crazy or not. If those monsters that her father has been so keen on destroying are actually real.
I guess that's where the hottie of the hottie's comes in - Cole Holland. I have never had such a big crush on the male protagonist since Damon Black from the Lux Series - as many of you know he is my bae. But Damon's competition is Cole! I mean Cole is a downright badass, with a sweet side? And of course there is this weird, abnormal, crazy connection that he and Alice share. I mean it is seriously weird, like supernatural weird.
The plot was immensely thought and planned out to the tea. I do not think there was anything missing. At the last page I was left satisfied and ready to continue on with the next adventure - Through the Zombie Glass. The sexiness, the charasmatics, and the drama is what drove me through this book! Of course then there is the zombie's that also drove me to the end. These zombies are not your original zombie's, I will warn you of this now.
If you have not picked up this book I suggest that you get your rotting zombie butts moving to the bookstore and pick up this badass adventure!!
Buy it!