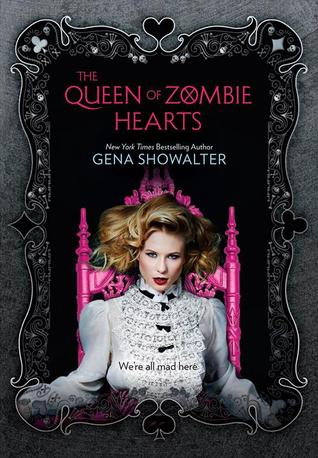 Name:
The Queen of Zombie Hearts
Author:
Gena Showalter
Number of Pages:
464
Publisher:
Harlequin Teen
Date Published:
September 30th, 2014
Source:
Gift
Rate:
5/5
We'll either destroy them for good, or they'll destroy us.

Either way, only one of us is walking away.

In the stunning conclusion to the wildly popular White Rabbit Chronicles, Alice "Ali" Bell thinks the worst is behind her. She's ready to take the next step with boyfriend Cole Holland, the leader of the zombie slayers…until Anima Industries, the agency controlling the zombies, launches a sneak attack, killing four of her friends. It's then she realizes that humans can be more dangerous than monsters…and the worst has only begun.

As the surviving slayers prepare for war, Ali discovers she, too, can control the zombies…and she isn't the girl she thought she was. She's connected to the woman responsible for killing—and turning—Cole's mother. How can their relationship endure? As secrets come to light, and more slayers are taken or killed, Ali will fight harder than ever to bring down Anima—even sacrificing her own life for those she loves.
*
If you have not read Alice in Zombieland or Through the Zombie Glass yet, I would suggest reading those reviews first before entering this one, as it will contain spoilers to the first two! *
[GOODREADS][AMAZON][B&N]
You know those series that you are scared to finish, because then they just end. There will be no more of them so you let the book sit and collect dust on your night stand. Well that is how I felt about The Queen of Zombiehearts! I was soo scared to finish this book because that meant the series would be over...however, I couldn't not finish this beautifully crafted world.
Gena Showalter has created an eccentric world filled with bad-ass characters, zombies, and romance that is full of sexiness!
In Through the Zombie Glass, we are left with a Alice growing in power and understanding of the world. I found it truly interesting how Alice kind of got darker through the series. Not dark as in the sense of evil, but the dark as in she has gone through a lot of shit and just won't put up with anything any more, especially Cole's issues. She has proven her love over and over again to each character that has been introduced. Her undying loyalty to each and every one of her friends, especially Kat, is there to a fault.
They are her new family.
In The Queen of Zombie Hearts, we are introduced to a new evil and a new power (revealed through Alice) and we are also given a huge HUGE dose of the past, where dark secrets are revealed. The plot was given in a very detailed manner, and there was no room left for guessing as there were to many things that could possibly happen!
I think my biggest love was watching Alice and Cole's relationship became very serious. Yes, they have had there many issues (cough cough those stupid wrong visions) but they are both strong characters and keep pushing through!
I must warn you that this book brings a lot of heartache. There were points that I needed to just set the book aside because it tore at my heart!
The wrap up to the White Rabbit Chronicles was by far my favorite, there was not a point in this series where I didn't feel some kind of excitement or really in depth emotion!
BUY IT!!