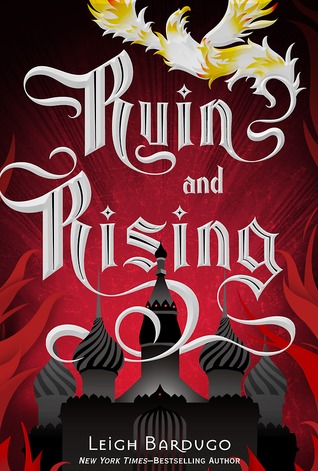 Name:
Ruin and Rising (Grisha #3)
Author:
Leigh Bardugo
Number of Pages:
422
Publisher:
Henry Holt and Co.
Date Published:
July 17th, 2014
Source:
Bought
Rate:
4.5/5
The capital has fallen.
The Darkling rules Ravka from his shadow throne.

Now the nation's fate rests with a broken Sun Summoner, a disgraced tracker, and the shattered remnants of a once-great magical army.

Deep in an ancient network of tunnels and caverns, a weakened Alina must submit to the dubious protection of the Apparat and the zealots who worship her as a Saint. Yet her plans lie elsewhere, with the hunt for the elusive firebird and the hope that an outlaw prince still survives.

Alina will have to forge new alliances and put aside old rivalries as she and Mal race to find the last of Morozova's amplifiers. But as she begins to unravel the Darkling's secrets, she reveals a past that will forever alter her understanding of the bond they share and the power she wields. The firebird is the one thing that stands between Ravka and destruction—and claiming it could cost Alina the very future she's fighting for.
*If you have not read Siege and Storm or Shadow and Bone I suggest you read them before entering this post, as it contains a few spoilers from the first two books.*
[
GOODREADS
][
AMAZON
][
B&N
]
At long last the daring conclusion to the
Grisha Series
has drawn near, and what a stellar series this was. I could not be more pleased with this series! It has already made it to my top series of 2015 that I have read! I finished this whole series in three days... 3 DAYS - that is how good this series was.
Ruin and Rising
was one wild ride after another full of mischief, power, and a sense of longing all which will drive you mad and want to continue the book late into the night.
I must say though, that the first two - Shadow and Bone and Siege and Storm - were by far my favorite. Not that this one was not any good, it was spectacular, it just felt off in a way. I enjoyed many aspects of
Ruin and Rising
, however there were some disappointing factors to this book as well.
Alina once again has escaped the clutches of the Darkling but with a cost - her power. She has lost the will to spread the light, and truly has no idea why. To top it off she is showing an inkling of the Darklings power.
Alina has grown to be a very powerful women throughout the
Grisha Series
, in a way I could never be more proud of her. Yet, at the same time, I feel much anger towards her and the decisions that she makes with the power that she has. It is like power calls to her, begging her to take more. Which you will see continue throughout the book, if you did not notice it in
Siege and Storm
. Of course, then there is her peculiar relationship with Nikclaus, the sexy prince/pirate. I must say that he became my most favorite character throughout the series and I almost wanted to say SCREW MAL pick Nikclaus.
Of course then there is her non-existent relationship with Mal, which was slightly disappointing; I just wanted them to smooch and get it done with but noooo they needed to constantly be fighting, ugh just my luck! Then you got the whole secret with Mal, that is an OMG moment! But I will let you figure that out for yourself!
As for the plot, I quite enjoyed the wrap up of this brilliant tale; however, I was a little peeved at how it ended. It was not the ending I truly expected, nor was it one that I truly enjoyed reading. It was kind of a morbid wrap up to such outstanding series. However, it was still a beautifully told plot and I could not believe the things that were revealed. I honestly believe there could be a spin off to this series, because there is so much information that still needs to be told!
All in all I suggest that you buy this book! It will sweep you off your feet and you will end this book wanting more, yet at the same time feeling content with the ending!
BUY IT!