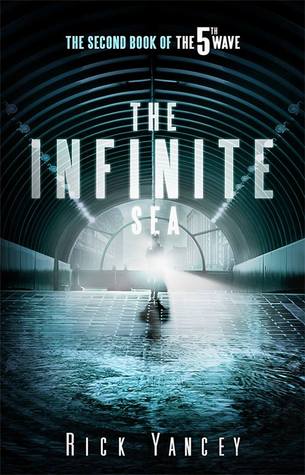 Name:
The Infinite Sea (5th Wave #2)
Author:
Rick Yancey
Number of Pages:
320
Publisher:
Putnam Juvenile
Date Published:
September 16th 2014
Source:
Gift
Rate:
3.5/5
How do you rid the Earth of seven billion humans? Rid the humans of their humanity.

Surviving the first four waves was nearly impossible. Now Cassie Sullivan finds herself in a new world, a world in which the fundamental trust that binds us together is gone. As the 5th Wave rolls across the landscape, Cassie, Ben, and Ringer are forced to confront the Others' ultimate goal: the extermination of the human race.

Cassie and her friends haven't seen the depths to which the Others will sink, nor have the Others seen the heights to which humanity will rise, in the ultimate battle between life and death, hope and despair, love and hate.
[GOODREADS][B&N][AMAZON][BOOK DEPOSITORY]
While I would love to give 4.5 to 5 out of 5 ratings all the time, I can't...because that would be lying... and I don't lie (do you feel my smirk). I wanted to love this book so bad, but I simply could not. Unlike the the first book - The 5th Wave - I was not hooked. I felt like something is wrong with me for not liking this book. While the plot was good and the character development was there; I still felt like something was off or just missing
.
I will try to explain my feelings on this book as best as I can...because there are a lot of feelings there to explain.
I would like to say that I loved the first cover so much better than this cover, maybe because it made sense. I am not really sure, it just seemed to fit. Maybe I am just crazy!
I guess when I started this book I was expecting more of Cassie and her brother, but I was sadly mistaken. Yes, Cassie was in the book but not as much as one would hope. I was not able to follow Cassie's character development as closely as I would have wanted to but I did get a few glimpses into her. She has definitely become a hard ass. She is more grumpier and I guess the proper word is mean then the first one. The one thing on her mind, that does soften her up a bit, is Evan. She refuses to leave anywhere until she is certain that he won't return - which does not sit well withher.
That is really all that you get of Cassie. Infinite Sea did a lot more jumping around then 5th Wave. I believe I counted 5 different point of views in this book rather than the first one. I am usually fine with this but the point of views did not really make sense until the end.
The new main character, as I would like to say, is Ringer. The strange girl that is in Ben's platoon. She is a girl willing to kill and will not make promises, as they are considered weak. Although I was upset with not seeing as much of Cassie as I would have wanted to, I found myself enjoying Ringer's story as well.
I wish I could say more on the positives of The Infinite Sea, but I simply can not. Do not get me wrong the plot was good, the characters did develop and become stronger more cohesive. I just could not get into like I did the first book. I really did not like the constant POV changes, especially when something big was going to happen. I was not to keen on Ben's POV either. I am hoping that the next book will be good though. Is that not how it works? The first book good, the second book meh, and the third book fricken amazing!
I RECOMMEND: Borrowing this book from a friend or going to your local library, and then maybe if you like it then buy it! (But that is my suggestion and you do not need to follow it!!!)