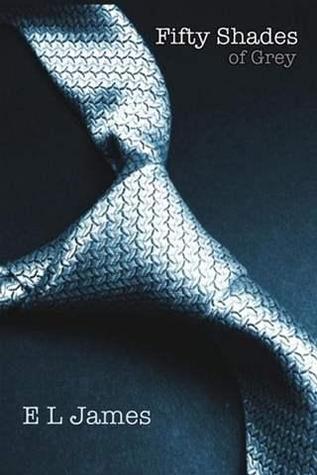 Name:
Fifty Shades of Grey (Fifty Shades #1)
Author:
E.L. James
Number of Pages:
385
Publisher:
Vintage
Date Published:
May 25th, 2011
Source:
Review (Bought)
Rate:
4/5
When literature student Anastasia Steele goes to interview young entrepreneur Christian Grey, she encounters a man who is beautiful, brilliant, and intimidating. The unworldly, innocent Ana is startled to realize she wants this man and, despite his enigmatic reserve, finds she is desperate to get close to him. Unable to resist Ana's quiet beauty, wit, and independent spirit, Grey admits he wants her, too—but on his own terms.

Shocked yet thrilled by Grey's singular erotic tastes, Ana hesitates. For all the trappings of success—his multinational businesses, his vast wealth, his loving family—Grey is a man tormented by demons and consumed by the need to control. When the couple embarks on a daring, passionately physical affair, Ana discovers Christian Grey's secrets and explores her own dark desires.

Erotic, amusing, and deeply moving, the Fifty Shades Trilogy is a tale that will obsess you, possess you, and stay with you forever.
[Summary taken from Goodreads]
[AMAZON]
Ok guys so here is the thing, I have been putting this review off for quite some time. Like as in 3 months quite some time, and what changed my mind about posting it was hearing a comment about
Fifty Shades of Grey.
Yes I just said the FSG word!!! The reason why I am posting this review (and the review of the rest of the series) is because I believe a lot of people definitely have their views (whether they are right or wrong) on it and I want to tell mine.
I had read this book a year ago when I was in high school, and yes I would bring it to school to read ( I just hid it as I did so) and I must say that I loved it. Not because of the Sex or the the whole BDSM stuff. It was not because of that at all, so get your mind out of the gutter! ;) I read it because of the romance and the story line.
A lot of people complained about Anastasia and Christian being like Edward and Bella. In a sense that is true, but as I read the series through not stopping. And being a person, like my self, who focuses solely on the character's and plot line I also found them to be quite different from Edward and Bella.
Anastasia, I found to be a very strong character. In her own way of course. Anastasia was not without her faults of course: she made mistakes. In many parts of Fifty Shades of Grey, it did seem that she was compliant and was self-less. Yet, she always has known what she has wanted and has never been directed off of her path before. Then her best-friend decides to get sick one day, and that my friends is where the story begins.
Christian is your gloomy, rich CEO, with a dark past. He always, and I mean always, gets what he wants. So when Ana literally falls into his office for an interview one day, well let's just say Christian get's what he wants. I definitely liked Christian; he had this dark past and I wanted to know what it was.
Anastasia and Christian's relationship is definitely out of the ordinary. Ok let's be real there relationship is like an alien compared to ordinary. Their emotions always collide, Christian is demanding, and Anastasia is stubborn. What a perfect couple...
I found their relationship to be quite annoying at times, they both loved each other and they knew it...well kinda! But one of them didn't want to admit it and the other does not believe in love. Talk about a mid-life crisis. There were times that I just wanted to throw both of them in a closet and have them talk out their issues, but that is not how these things work I guess!
I definitely loved the outside characters: Jose, Ana's best-friend, Christians parents and brother, etc. Each brought life to this book and added the humor that was needed.
Although I enjoyed Fifty Shades of Grey, I have to agree with some of my fellow reviewers. The writing was not that impressive, it did feel it was a beginner level reading. Yet, I found a way past that and looked at the bigger picture in the whole scheme of things. Was it a little sad that I could pick out some twilight parts yes, but I also needed to remind myself that this was a twilight fanfiction.
I also found that there was not that many sex scenes. Yes, Fifty Shades of Grey was detailed but they actually were not as bad as I would have thought. I thought I would see a lot of sex and them be so detailed that I would have to put it down, but that was not the case. I enjoyed this book immensely: the romance was very good, the character's (although, easily compared to the Twilight Series) were actually very good, and the story line was amazing.
My advice to this book is read it (I am not saying buy it but maybe borrow it). I will not make you, but keep an open mind to these books and don't always listen to what everyone has to say about them. You might find that you will enjoy them.
Read On!!!
xx Kat xx
These are one of the only series that I will do a review on from the adult series, or at least ones at this type of level!
Also keep an eye out I will be doing a review of this on my Book Tube Channel! If you have not seen my channel go check it out! It's all book related! You can find a link under the booktube page