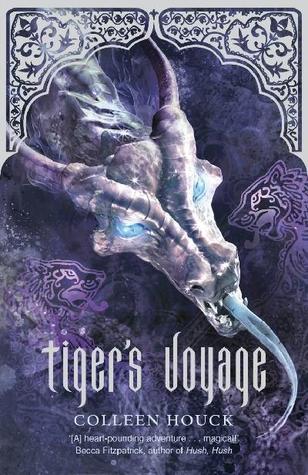 Name:
Tiger's Voyage (Tiger's Saga #3)
Author:
Colleen Houck
Number of Pages:
560
Publisher:
Hodder & Stoughton
Date Published:
November 1st, 2011
Source:
Review (Bought)
Rate:
4.8/5
With the head-to-head battle against the villainous Lokesh behind her, Kelsey confronts a new heartbreak: in the wake of his traumatic experience, her beloved Ren no longer remembers who she is. As the trio continues their quest by challenging five cunning and duplicitous dragons, Ren and Kishan once more vie for her affections--leaving Kelsey more confused than ever.
[Summary taken from GoodReads][AMAZON]
I had bought
Tiger's Voyage
oh I don't know a few weeks ago, along with Heir of Fire. Now you see my dilemma. Which book, from two series I immensely enjoy, do I read next? Well the ending to the second book in the Tiger's Saga answered my question.
Usually it does not take me this long to read and review a book, I spend hours reading and get much accomplished. It was not because I was too busy, it was the emotions that
Tiger's Voyage
drove out of me. I do not know how many times I put aside this book because of feeling too mushy or frustrated. Frustration taking the forefront of my emotional drive.
After finishing
Tiger's Voyage
, I have no idea who's side I am even on. Kelsey is stuck between two men: one that is in love with her but has no memory of it and the other that loves her with a strong passion. Both are handsome, rich, and prince-like men yet how do you choose between the one that has your heart and the other is just a safer and better choice.
Kelsey, has had more than she can bare. She loses the only love she has, and he is off flirting with some other girls! As you all know I enjoy learning about the characters and watching the characters grow. Yet, what upset me - with Kelsey - is that she had this huge internal struggle between Kishan and Ren through the entire book. She was playing both of them, just because she did not know how to choose. I understand this, but to kiss one and than run into the arms of another and than repeat the process over again. Talk about Whiplash!! By the end of
Tiger's Voyage
I wish that she would make up her mind. She loves both but doesn't know who to choose -- I can choose for you, REN!!!
On top of Kelsey's hard love life, there comes the problem of the prophecy, along with Lokesh lurking in every dark corners of the eart. I loved how the author incorporated dragons into the prophecy, it was perfect in every sense. I loved the background story given by Mr. Kadam (Gotta love that man and his history/mythology). Every time the gang starts a new adventure, I always find myself getting overly excited. These books have so many things going on and I am afraid I will miss a small detail!
Back to this whole Ren, Kishan, and Kelsey issue. While reading this book, you will find that Kelsey and Ren's relationship go deeper than the average love, there is magic involved...but that is all I am going to tell you. Also you will find that all these character's pull stupid stunts to be with one another or just to piss each other off!
Colleen Houck has definitely created a story worth being told. Even the cover's do not do this story justice, because they are quite beautiful! Each character added into
Tiger's Voyage
always adds to the story and never takes away, and there are quite a few interesting characters that are added. Could have I done a little less with the relationship drama. Absolutely, I understand it was needed but I also felt if was a little overdone. Also Mr. Kadam likes to tell a lot of stories!!! Like a lot of stories. I know quite of bit of mythology now. I like all of these stories told within the story but I felt sometimes it was just too much. I wanted it to get to the point.
I do recommend this entire series to everyone. Go out and buy it, borrow it, rent it, etc. Because this story will capture you in a way that you won't be able to put this book down until the very end!
Read on my peeps that love, love triangles!! And those that don't as well! (I personally don't like them but meh we will go with it!! ;)
xx Kat xx
This post will also become a book review on my booktube channel! So if you want a more detailed...or want to talk about the book with me than check it out! It will be posted either tonight or tomorrow (Saturday)!