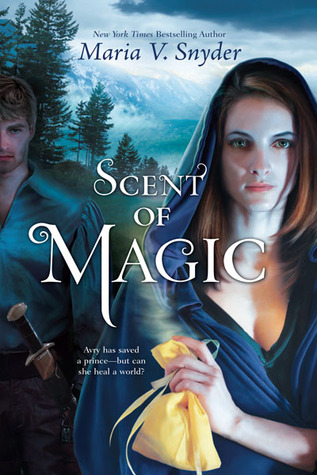 Name:
Scent of Magic (Healer #2)
Author:
Maria V. Snyder
Number of Pages:
414
Publisher
: Harlequin MIRA
Date Published:
December 18th, 2012
Source:
Review (Bought)
Rate:
5/5
As the last Healer in the Fifteen Realms, Avry of Kazan is in a unique position: in the minds of her friends and foes alike, she no longer exists. Despite her need to prevent the megalomanical King Tohon from winning control of the Realms, Avry is also determined to find her sister and repair their estrangement. And she must do it alone, as Kerrick, her partner and sole confident, returns to Alga to summon his country into battle.

Though she should be in hiding, Avry will do whatever she can to support Tohon's opponents. Including infiltrating a holy army, evading magic sniffers, teaching forest skills to soldiers and figuring out how to stop Tohon's most horrible creations yet; an army of the walking dead—human and animal alike and nearly impossible to defeat.

War is coming and Avry is alone. Unless she figures out how to do the impossible ... again.
[Summary taken from GoodReads]
Like always Sndyer has written another book which has captured my heart-
Scent of Magic
. In the last book -
A Touch of Power
- we meet our heroine Avry. Who suffers a dangerous past and a dangerous present. Maria V. Snyder has created an amazing fantasy world, and nothing was left out.
Avry was, or is a healer. Unfortunately her talents are being hunted, because the Healer's are believed to have started a world wide pandemic. Avry is found by a group of "bandits" begging her to heal their prince so that the war can come to an end. Well, Avry hates the prince and will not give up her own life for his. Of course the leader of the bandits, Kerrick, is drop dead gorgeous and although she would love to say no, he is just to sexy to say no to.
When I mean sexy, I mean sexy. In the second book (
Scent of Magic
) to the Healer Series our beloved character's are put into more dangerous situations than before: man-eating plants, the walking dead, and a ghost from the past. This time, though, they must all deal with their own issues alone.
Avry set's off on an adventure to look for her last family member, her sister. After believing that her family was dead, Avry almost gave up hope. Until she found out some unlikely news. Now I am going to say this, I hate the sister. I really do.... this is the one plot area that I wish was left out. That is all I am going to say. I really, really, really do not like her.
The character's, plot, and writing style was as beautiful as ever. It was as if it was being played out before my very eyes. I know very poetic but its fricken true!! I loved the romance between Avry and Kerrick, it was so much more define and enriched...it was fricken fluffy and cute. It was also very subtle but their passion is so strong it also hurts to read their private moments together. They have a very strong connection, which I loved reading.
I will leave you with this last thought: GET THE BOOK. Buy it, borrow it, rent it. I do not care but get your hands on it!!...If you don't like it well...you have no imagination...I am joking your probably have an amazing imagination...Just get the book ;).
Read On!!!
xx Kat xx