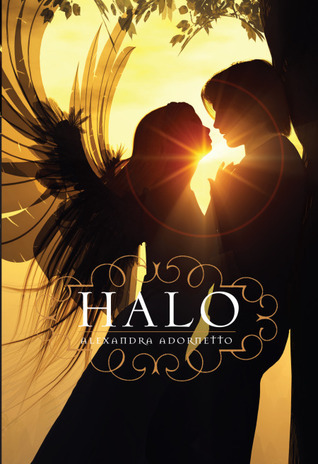 Name:
Halo (Halo #1)
Author:
Alexandra Adornetto
Number of Pages:
484
Publisher:
Feiwel & Friends
Date Published:
August 31st, 2010
Source:
Review (Bought)
Rate:
3.5/5
Three angels – Gabriel, the warrior; Ivy, the healer; and Bethany, the youngest and most human – are sent by Heaven to bring good to a world falling under the influence of darkness. They work hard to conceal their luminous glow, superhuman powers, and, most dangerous of all, their wings, all the while avoiding all human attachments.

Then Bethany meets Xavier Woods, and neither of them is able to resist the attraction between them. Gabriel and Ivy do everything in their power to intervene, but the bond between Xavier and Bethany seems too strong.

The angel's mission is urgent, and dark forces are threatening. Will love ruin Bethany or save her?
[Summary taken from GoodReads]
Halo is exactly what you expect when you look at the cover. It is about an angel girl that falls in love with a human boy. I must say that I love the book cover, it is one of my favorites. It gives off so many ideas what the book could be and it does not lack in detail. The glowing, setting sun behind them is bright and gives off a ring of light - signifying an angelic nature. The elegance given by the font gives off the delicate nature at which Halo resides. And the two people - a boy and a girl - gives off the sense of romance.
When Gabriel, Ivy, and Bethany come down to earth, each carry a personal trait. Gabriel is the warrior he will fight and protect his family. Ivy is the healer she usually will calm the bonds between Gabriel and Bethany. And Bethany is the out of place angel that just wants a normal human life, even though she knows that is not there mission
.
I came to like Bethany and not like her. I loved her gentle nature, her quirky human side, and the little odd characteristics that you would not usually find in a character. Yet I did not like her character, she was at times really needy, she was not a very strong character, and she was always dependent on someone.
I also have a bigger reason I do not like this book. The religious base. Now do not get me wrong I am catholic and I will not push anything onto anyone. Yet I feel that is what this book does. I liked the writer's plot but I did not like how she did it. If I ever wanted to recommend this book I would have to be very careful as to who I tell. Because of the religious sword hanging over my head.
Also there was not much angelic help in this book at all. These angels were sent down to save humanity. Yet all the main character did was ogle a cute boy and cry over said cute boy. YOU ARE A FRICKEN ANGEL!!!! Are you not suppose to be helping people out, or saving a cat from being hit by a car, or feeding the homeless!
The cover was beautiful, so why was the story not beautiful. I did not agree at all with Adornetto's views on religion I do not care if I am catholic or not. Nor do I like the supposed real character's. I guess I was expecting more.
Read On!!
xx Kat xx