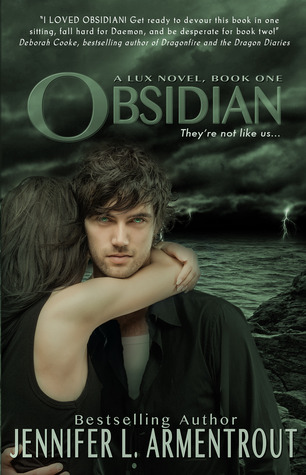 Name:
Obsidian
Author:
Jennifer L. Armentrout
Number of Pages:
335
Publisher:
Entangled Teen
Date Published:
May 8th, 2012
Source:
Review (Bought)
Rate:
4.5/5
Starting over sucks.

When we moved to West Virginia right before my senior year, I'd pretty much resigned myself to thick accents, dodgy internet access, and a whole lot of boring... until I spotted my hot neighbor, with his looming height and eerie green eyes. Things were looking up.

And then he opened his mouth.

Daemon is infuriating. Arrogant. Stab-worthy. We do not get along. At all. But when a stranger attacks me and Daemon literally freezes time with a wave of his hand, well, something... unexpected happens.

The hot alien living next door marks me.

You heard me. Alien. Turns out Daemon and his sister have a galaxy of enemies wanting to steal their abilities, and Daemon's touch has me lit up like the Vegas Strip. The only way I'm getting out of this alive is by sticking close to Daemon until my alien mojo fades.

If I don't kill him first, that is.
[ Summary from GoodReads ]
Jennifer Armentrout has quickly made her way into my list of favorite authors over night. Obsidian is a gift and curse. It's a gift because the writing is lively and the characters are perfect... they aren't flawless -- oh boy do theses characters seem believable. They fit the book so well, she could not pick better than Daeman and Katy. Those two make the book what it is. Yet at the same time it is a curse -- but the kind that wants you to be cursed forever -- I barely started the first book and went out to buy the rest of the series, I also stayed up until the crack of dawn not wanting put down this book. I could not ask for anything better than this.
Out of all the books I have ever read this is the book that has brought out more emotion than I can keep track of. This book has caused me anger and frustration and kept me riled up, and there is only one cause for this feeling...Daemon.
Daemon is your like your local bad boy with a secret that you would just love to dig up. Through out Obsidian I have wanted to ogle him, hit him, and kiss him all in one. He has this way of making you tick like no other. Yet you just can't help but fall more and more in love with him. Of course this book wouldn't be what it is without it's main character, Katy. She is your stubborn, book loving, blogger that has you laughing at her oh so "kind" phrases to Daemon. I wanted to high five her and yell "girl power" every time she gave one of her famous remarks. I was rooting for her.
The one thing that really won me over was the not so instant attraction that are in most books. Katy thought Daemon was hot and any girl would, I mean look at that cover. In almost every book I read there is always a love at first sight. In Obsidian it was more of I am going to kill you at first sight. I loved the play fullness and the attitudes. Along with the tension in the air between Daemon and Katy. Yet it is fitting, if there was no tension and frustration between the two this book would have been boring and it wouldn't have led to an ending so nerve wrecking, yet simultaneously amazing, that will leave you speechless.
Obsidian was definitely different for me, I have never read a book with aliens before, so this new type of paranormalcy really intrigued me. I am so so so glad I picked this book up and the rest of its series! You guys are in for one heck of a ride!
Read On!!
Hey guys!! I would love it if you could get the word out there, tweet it, like it, share it!!
xx Kat xx
Follow my blog with Bloglovin