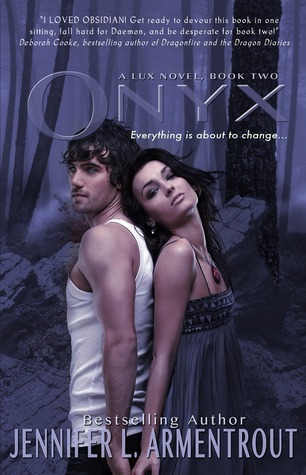 Name:
Onyx (Lux #2)
Author:
Jennifer Armentrout
Number of Pages:
366
Publisher:
Entangled Teen
Date Published:
August 14th, 2012
Source:
Review (Bought)
Rate:
4/5
Thanks to his alien mojo, Daemon's determined to prove what he feels for me is more than a product of our bizarro connection. So I've sworn him off, even though he's running more hot than cold these days. But we've got bigger problems.

Something worse than the Arum has come to town…

The Department of Defense are here. If they ever find out what Daemon can do and that we're linked, I'm a goner. So is he. And there's this new boy in school who's got a secret of his own. He knows what's happened to me and he can help, but to do so, I have to lie to Daemon and stay away from him. Like that's possible. Against all common sense, I'm falling for Daemon. Hard.

But then everything changes…

I've seen someone who shouldn't be alive. And I have to tell Daemon, even though I know he's never going to stop searching until he gets the truth. What happened to his brother? Who betrayed him? And what does the DOD want from them—from me?

No one is who they seem. And not everyone will survive the lies…
[ Summary from GoodReads ]
"Do you have any idea what you do to me?" he asked gruffly.
"I'm not doing anything."
Daemon shifted his head just enough that our lips brushed once... and then twice before he increased his pressure.
Ok... Ok... give me a second or two to cool down after reading this book. I don't know how much more my heart can.... Ok I am ready to write this review! So when I read the first book, I had fallen in love with Daemon and Katy. They are two characters that make up one another so well. Yet at the same time they like to hit each other with sarcasm and words like "dickdom." I cracked up after reading that word, it was too funny. I was wrong when I said
Obsidian
brought out more emotion in me, It was
Onyx
that did most of the work.
Onyx
has so many twist and turns that you sometimes feel like you can't keep up.
Jennifer Armentrout yet again succeeds my expectations of this series. She has created something to beautiful for words. If I did not love her before, after reading
Onyx
, I love her now more than ever.
In
Onyx
you definitely see the sexual tension between Daemon and Katy. Where in
Obsidian
it was the constant hate, it is the constant sexual tension in
Onyx
. That doesn't mean that Katy doesn't give out her famous phrases, she does trust me, but it is her inner battle with herself and her wants that take presents. Of course we can't forget our sexy neighbor Daemon either, because he is just too yummy to forget. Daemon has his fair share of spot lights... of course any time he steps into a room the spot light is on him. Daemon's character evolves just like Katy's does just a different way. You can't help but fall in love with his sarcasm and wit, nor can you help but fall in love with this new side of his either.
Even though I concentrated more on the characters this time around, I must say that the pace of
Onyx
was great. You know how you get those books that start out with a bang and the climaxes build but then you get the middle part that suffers from sluggish disease. Well,
Onyx
never had that problem it was witty, nerve wrecking, and full of endless remarks. You are not given a sequel that is slow just so it can get to the third book. If anything Jennifer wrote a home run with this sequel. It surpassed
Obsidian
by a long shot. Never once did I set this book down in boredom or dismay.
Jennifer never strays from her ideas as she is writing. She has one main purpose of the book and never adds in more detail than one can manage. I hate it when books stray from one idea to the next never hinting what the book is truly suppose to be about or what is supposed to be accomplished by the end. Yet Jennifer knows what she wants and strives for it.
My only reason for four royals is that Katy got me really aggravated in this book and was pulling really dumb moves, even though I understand why she did it, it still pushed my buttons. Also another thing is I am not much of a love triangle person, never really have been. I get that it adds drama to books but this book is already full of drama it doesn't need the extra boost. But that is just me, some people do like there love triangles. Other than those few tidbits I had no other issues with this read.
In the end
Onyx
just like
Obsidian
captured my heart. If it wasn't the unsaid romance it was the sense of adventure that drew me in. It took my heart and rearranged it into to different pieces: frustration, love, hope, anger, and soppy. The ending though hit me the hardest and even though I understand why it happened it still left me a bit crestfallen. Not many authors can achieve what Jennifer did for me.
Read On!!!
Hey guys!! I would love it if you could get the word out there, tweet it, like it, share it!!
xx Kat xx
By the way it is my Birthday today!!! 19 years old goodness I am getting old :) I am glad to be doing my favorite thing on my favorite day!