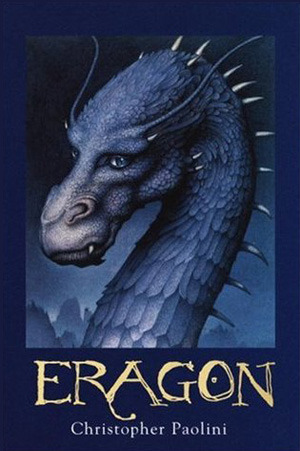 Name:
Eragon (Inheritance Cycle #1)
Author:
Christopher Paolini
Number of Pages:
503
Publisher:
Knopf Books for Young Adults
Date Published:
April 2005
Source:
Review (Bought)
Rate:
4/5
One boy . . .

One dragon . . .

A world of adventure.

When Eragon finds a polished blue stone in the forest, he thinks it is the lucky discovery of a poor farm boy; perhaps it will buy his family meat for the winter. But when the stone brings a dragon hatchling, Eragon soon realizes he has stumbled upon a legacy nearly as old as the Empire itself.

Overnight his simple life is shattered, and he is thrust into a perilous new world of destiny, magic, and power. With only an ancient sword and the advice of an old storyteller for guidance, Eragon and the fledgling dragon must navigate the dangerous terrain and dark enemies of an Empire ruled by a king whose evil knows no bounds.

Can Eragon take up the mantle of the legendary Dragon Riders? The fate of the Empire may rest in his hands
[ Summary from GoodReads ]
When I first got this book I was very hesitant to read it.
Thinking back now I'm not really sure why...maybe it was because I wasn't a fan of books that were in a boy's point of view. Also I was more romance than dragons, magic, and wars.
Well it was one year after and on my birthday I got the next two books Eldest, and Brisinger. That was when I decided it was time to pick up this book and get reading.
I was amazed and in awe of the world of Alagaesia. Christopher Paolini has created a world that no one can ever replicate.
Eragon, the main character, is a heart grabber. He is innocent and oblivion to the world around him. But one event will change his world which will open up a door to so many possibilities. He has no clue what he is in for yet he dives head first into a battle of a lifetime. Eragon quickly became one of my most favorite characters of all in Eragon. He is daring, sweet, and innocent. He is not afraid of the world as he should be and he is ready to take on whatever threatens his loved ones. You will find yourself caught on Eragon as his character develops through the book. If he hopped out of the book there would be no difference between him and a human-being...that is if you look past his choice of wardrobe.
The other characters are just as life like. Brom is your typical grumpy old man that loves to tell his famous war stories...that is until you dig deeper into his life. Aria -- by far the most interesting character -- is a whirl wind of a character. Once you think you know her then it is as if she slips right through your fingers. As for the other characters that is definitely for you to decide your feelings on.
Eragon is adventure packed, heart breaking, and an emotionally moving book. It has you grasping at the book wondering what the heck just happened and then you think to turn back a page to re-read it to realize, yes it just happened.
One of the down falls to this book is the wordily descriptions of places and events. Sometimes it is relevant to the book and yet at some parts I do not need to know every nook and cranny of a boat that they are going to get on. Another is the fast past movement at some parts that is great but even the parts where you think it should be a little slow, it isn't. One more mishap is the long dialogue, I like a little dialogue but it gets to the point where showing the deeper feelings of the character is hard.
All in all this was a great book. I would definitely recommend this book to people who like adventures, ancient races, dwarves, elves, and other creatures that one has not even heard of. It makes you want to learn magic and find a baby dragon to keep.
Read On!!!
Hey guys!! I would love it if you could get the word out there, tweet it, like it, share it!!
xx Kat xx