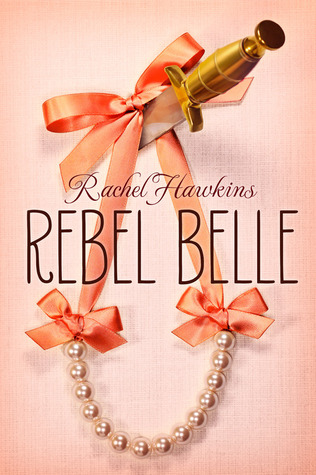 Name:
Rebel Belle
Author:
Rachel Hawkins
Number of Pages:
345
Publisher:
Putnam Juvenile
Date Published:
April 8th 2014
Source:
Bought
Rate:
3.5/5
Harper Price, peerless Southern belle, was born ready for a Homecoming tiara. But after a strange run-in at the dance imbues her with incredible abilities, Harper's destiny takes a turn for the seriously weird. She becomes a Paladin, one of an ancient line of guardians with agility, super strength and lethal fighting instincts.

Just when life can't get any more disastrously crazy, Harper finds out who she's charged to protect: David Stark, school reporter, subject of a mysterious prophecy and possibly Harper's least favorite person. But things get complicated when Harper starts falling for him—and discovers that David's own fate could very well be to destroy Earth.

With snappy banter, cotillion dresses, non-stop action and a touch of magic, this new young adult series from bestseller Rachel Hawkins is going to make y'all beg for more.
[GOODREADS] [AMAZON] [B&N]
So I must say that I am quite proud of myself! Since I have come back from college just this last Thursday I have finished 2 books! 2 books in less than
3 days! That is an achievement I feel like my old self once again!
I had heard so much hype over Rebel Belle that I truly thought this was going to be a 5/5 star rating and sadly it is not, however, I enjoyed many aspects of this book. This is a book full of action, kick ass assassins, and a tale that makes you want to join a martial arts class!
I must say that at first I did not know if I truly liked the main character, Harper Price. Okay lies I fricken hated her guts. Harper Price is a perfectionist, a pain in the ass, a organized freak, and on every fricken comity that the school and the small town of Pine Grove runs! Taught about no life. I just had this strong hatred for her, maybe because at first it was her "I am better than you" attitude that she was throwing off or maybe because of the fact that she was just way too perfect in my eyes. However as the plot progressed and the story line thickened, I kind of liked her by the end of Rebel Belle.
I think one of the other big things I did not like about Harper was her dislike for her arch nemesis David, a boy that tends to write awful articles about her. Maybe that is why I loved David so much he is your classic journalist: sweaters, cool glasses, and pretty much no decent style. He was the opposite and yet the same as Harper. I wanted them together since the beginning, so to see there long progression of a relationship throughout Rebel Belle was definitely nerve wrecking.
I think the biggest thing that brought them together throughout the book was the fact Harper became the next Paladin, which is a guardian with kick ass abilities and one person to protect. I found it a little frustrating how Harper took the whole becoming a ninja thing, but It was necessary because how she acted would be how any one else would act in reality today: scared and just too much to take on. However, the close she gets to David, the more she can't help but take on the role as a Paladin.
Of course there is the issue with her boyfriend - Ryan - who I despise xD! But that is a rant for another time!
I found the plot to be quite exciting, that is if you love action around every corner, love to watch a girlfriend beat up her boyfriend, and like kick ass female protagonists - then yes this book is definitely for you! This book was action packed from the very first page, and in all honesty a book like this needed to be all action, which it was! I was very impressed with the writing style (as this is my first Rachel Hawkins book every)!
All in all I plan on continuing with the series and I am looking forward to continuing the adventures of David and Harper