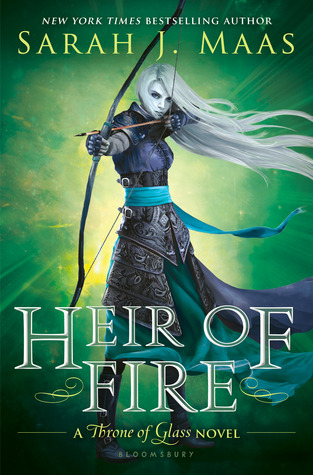 Name:
Heir of Fire (Throne of Glass #3)
Author:
Sarah J. Maas
Number of Pages:
562
Publisher:
Bloomsbury USA childrens
Date Published:
September 2nd, 2014
Source:
Bought
Rate:
5/5
Lost and broken, Celaena Sardothien's only thought is to avenge the savage death of her dearest friend: as the King of Adarlan's Assassin, she is bound to serve this tyrant, but he will pay for what he did. Any hope Celaena has of destroying the king lies in answers to be found in Wendlyn. Sacrificing his future, Chaol, the Captain of the King's Guard, has sent Celaena there to protect her, but her darkest demons lay in that same place. If she can overcome them, she will be Adarlan's biggest threat – and his own toughest enemy.

While Celaena learns of her true destiny, and the eyes of Erilea are on Wendlyn, a brutal and beastly force is preparing to take to the skies. Will Celaena find the strength not only to win her own battles, but to fight a war that could pit her loyalties to her own people against those she has grown to love?
[GOODREADS][AMAZON][BOOK DEPOSITORY][B&N]
...I have no complaints, for once in a book I have no complaints about the plot, the characters, the romance...nothing. Maybe I am biased because this is one of my favorite series and I love the world like no other, but in this case I am not entirely sure that is the case. Sarah J. Maas has woven a world full of magic, darkness that lurks around ever bend, and a suspense that keeps you pushing until that very last page draws near.
In all honesty I wanted to put the book down the last 100 pages just because I did not want it to end.
In Adarlan and across the continent darkness is moving. Whispers of a nameless fear crosses peoples lips; seeing this dark foul creatures that will take your fears and turn them into your worst enemy. However, there may be a shining light, just yet, in this darkness - a girl by the name of Celaena. Sent across the ocean to keep her safe may have been the worst and best thing Chaol could ever do for her. If Celaena wants to make it out on top she will have to face her worst fears and her biggest threats.
First I would like to say if you are planning on reading Heir of Fire make sure you read Assassins Blade first. Some of the facts and the history in this book is tied to it, and it will make all that much more sense - as a lot of Celaena's past is uncovered in this book.
I could say what I usually say about the plots in my other reviews, but for some reason this one was different. I need to express myself more on the plot than I want to on the characters.
This plot was by no means revealing. Sarah J Maas did a very good job at only telling you bits and pieces here and there. Which was one of the many reasons this book kept me up late, in a crazed suspense wanting to know what happens next. I was never dissappointed with the outcome, never angry that something happened that I wish didn't because somehow it either fixed it self or I knew it would be fixed in the next book.
I feel as if the characters were connected to the plot in more than just a story kind of way. The plot was a constant background story, a history, into the lives of a majority of these characters - it was their heritage, their ancestory that was being told. I found that to be amazing to read.
Of course one cannot forget the constant emotions that the plot gave out. The anger, fear, frustration, fascination, and adoration in this twisted plot made it all that more real. Almost as if the characters and the storyline could jump off the pages and into reality. It was not an emotional roller coaster ride, no that does not even begin to describe what Heir of Fire brings out of people.
I don't even know what else to say except this: if you love high fantasy (elves, magic, etc), love action, and characters that will sweep your heart away from the moment you meet them. I suggest that you pick this book up.
If you have not read the series already...what is wrong with you XD! Just kidding but seriously pick this whole series up you will not regret it!
RECOMMENDATION: buy it (and the whole series if you have not already done so)
instagram: @kats_bookrealm
twitter: @_teenbookaddict