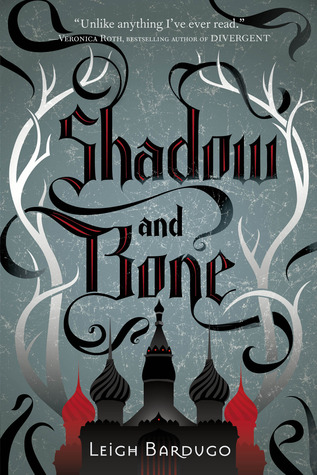 Name:
Shadow and Bone (Grisha #1)
Author:
Leigh Bardugo
Number of Pages:
358
Date Published:
June 5th, 2012
Publisher:
Henry Holt and Co.
Source:
Gift
Rate:
4.5/5
Surrounded by enemies, the once-great nation of Ravka has been torn in two by the Shadow Fold, a swath of near impenetrable darkness crawling with monsters who feast on human flesh. Now its fate may rest on the shoulders of one lonely refugee.

Alina Starkov has never been good at anything. But when her regiment is attacked on the Fold and her best friend is brutally injured, Alina reveals a dormant power that saves his life—a power that could be the key to setting her war-ravaged country free. Wrenched from everything she knows, Alina is whisked away to the royal court to be trained as a member of the Grisha, the magical elite led by the mysterious Darkling.

Yet nothing in this lavish world is what it seems. With darkness looming and an entire kingdom depending on her untamed power, Alina will have to confront the secrets of the Grisha . . . and the secrets of her heart.

Shadow and Bone is the first installment in Leigh Bardugo's Grisha Trilogy.
[GOODREADS][AMAZON][B&N][BOOK DEPOSITORY][YOUTUBE REVIEW]
I will admit that I had no idea this series existed, absolutely no idea until I started book blogging and booktubing. When I put this book on my video of series that I wanted to start I had no idea I would get so much feed back from my viewers! I did not realize just how popular these books are...so when Christmas 2014 came around you bet your butts I put this on my list of things I wanted! You can just imagine my squeal when I received all but the last book for Xmas!!
I want to start out by saying the cover is absolutely stunning, the author and cover designer could not have picked a better book! I mean come on the colors are absolutely gorgeous together! By now, many of you know of my obsession with maps! I wish I could show you the map in this book, it is simply stunning...the drawings and details that had gone into it are beyond my imagination of what it could have possibly been!
The Grisha, are a group of individauls that have been "blessed" by a god of sorts and given gifts. They are the elite of the country. Each falling into their own category, with the Darkling being at the top of the chain in command. Ravka the great nation in which the Grisha and the non-magical people reside has been split in two by a dreaded war and the rift - a sea (called the Unsea) that was torn into the middle of Ravka.
Our journey begins with the main character Alina, a girl left orphan to the savages of war. Although, she has gotten by with the help of her friend Mal. Joining the military really is the only option for people like her, although she will soon come to find out that maybe she is not as ordinary as she wishes to think.
I enjoyed reading about Alina, although her story is sad, she is as strong of a character that one can ask for. I loved her wit, her love for her stupid friend Mal (he is not really stupid...he just acted like it half the time in the book), and I especially loved her courage. Even though the last thing that Alina wants is attention, she can not help but get caught up in it and bask. Does that make her self-centered no...she just is not used to such a lifestyle. After her friend Mal is threaten, Alina unleashes a magic deep within her that she never knew she had...a magic she wish that she never had. It was quite interesting to read her dealing with it all.
THIS BOOK GAVE ME FEELINGS GUYS...STRONG FEELINGS.
Now the Darkling guys....the fricken Darkling made me feel things! I loved him! That's all I can really say about him really without giving away parts of the book. I enjoyed getting to see the background story that the author gives for the Darkling, it is interesting to say the least. You will come to find that you will have mixed feelings about him...but that is totally normal in this book!
The plot was an eye catcher, the ending definitely caught me off guard. I wish I could just blurt it out but I will not because that is called spoiling a book...and we do not want to do that! There were times in the plot I was just like GET ON WITH IT, not because it was bad but because it was so dang good. It kept me on my toes to say the least. There is nothing I would change about my reading experience! Nothing at all!
BUY THIS BOOK...I mean it, you will not regret it. My only regrets is that I did not pick it up sooner. If you are into high fantasy, adventure, romance, and a medieval feel...this book is for you!
Getting lost in this book was the best thing I ever did...I need to buy the last book so I can marathon through the rest!