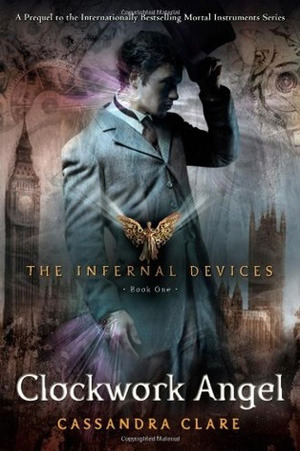 Name:
Clockwork Angel (Infernal Devices #1)
Author:
Cassandra Clare
Number of Pages:
479
Publisher:
Simon & Schuster. Margaret K. McElderry
Date Published:
August 31st, 2010
Source:
Bought
Rate:
3.5-4/5
The year is 1878. Tessa Gray descends into London's dark supernatural underworld in search of her missing brother. She soon discovers that her only allies are the demon-slaying Shadowhunters—including Will and Jem, the mysterious boys she is attracted to. Soon they find themselves up against the Pandemonium Club, a secret organization of vampires, demons, warlocks, and humans. Equipped with a magical army of unstoppable clockwork creatures, the Club is out to rule the British Empire, and only Tessa and her allies can stop them...
[GOODREADS][AMAZON][B&N][BOOK DEPOSITORY]
Many of you are probably really confused and think I am crazy for rating this really weirdly! That is because I truly could not choose between 3.5 or 4 out of 5 stars. There were so many things I love about this book and so many things that I really disliked. So why not be abnormal and change my rating around a little bit!
I first must say that it took me a really long time to get into the setting of this book because of the fact I only kept thinking of a modern era and Mortal Instruments.
Now none of you know, I used to like Mortal Instruments but after the hype I just could not pick it up because I was tired of hearing about the book constantly! And I think that is why I rated this book so low. That and I could not stand the main female protagonist -- Tessa.
Tessa is sent a letter from her brother to move to the lovely city of London; where she will get a fresh start and start to heal. However upon arrival Tessa is kidnapped by the Dark Sister's and a power deep within her is unleashed -- the ability to shape-shift into any thing (human-beings mostly). And with this power came those that want the power for themselves - especially the mysterious Magister. Who will stop at nothing to make sure Tessa is his. She was finally able to escape the claws of the sister and she finds cover with the Shadowhunters of London.
I absolutely did not like Tessa at all; yes, she was a well developed character and she definitely had a lot going for her as a character but I did not like her personality at all. She is a whiny, needy, ridiculous, and downright annoying!! I understand she was kidnapped, was forced to use a power she no idea she had, but did she really have to be so ungrateful. These people take her in and all she does is complain -- I understand that her main priority is her brother -- but she was constantly thinking unrealistically!
Then of course her connection to Jem and Will is peculiar. She loves the safety of Jem but can't but help but be drawn into Will - someone who infuriates like no other. The one thing I did love was the antics between Will and Tessa it was definitely funny to read.
I definitely loved Will Herondale, out of all the characters he was my all time favorite. He was sexy, sarcastic, funny, and down right charming. Of course he was a player and got around; it was his secrets that made me want to read more about him! That is the one thing I can not wait to read more of is Will -- usually it's the main female character that drives me to read the next book but in this case it was not and I do look forward to reading more of the different characters!
I do not have much to say about Jem, except that he is adorable! Although I am definitely a team Will, I could not help but fall in love with Jem's sweet side. As he is the complete opposite of Will.
I loved the plot twists, most of the characters, and I especially loved seeing Magnus Bane once again! (as he is my Bae <3) I loved what Clare did with the depth of the plot, as I was not as big of a fan with Mortal Instruments. I must agree thought that Infernal Devices is so much better than the Mortal Instrument series and I look forward to continuing this series!
RECOMMENDATION: Borrow it! --- however I also recommend buy it!