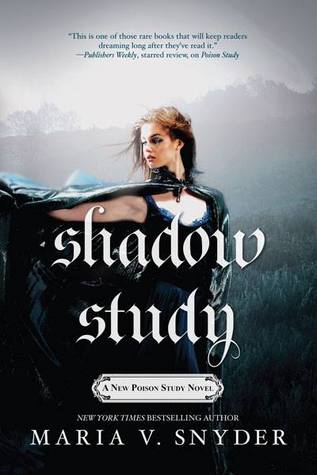 Name:
Shadow Study (Soulfinders #1)
Author:
Maria V. Snyder
Number of Pages:
384
Publisher:
Mira
Date Published:
February 24th, 2015
Source:
Given to me by the Author for an honest review - this is all my opinion and not prompted
Rate:
4.5/5
Once, only her own life hung in the balance.

Oddly enough, when Yelena was a poison taster, her life was simpler. But she'd survived to become a vital part of the balance of power between rival countries Ixia and Sitia. Now she uses her magic to keep the peace in both lands and protect her relationship with Valek.

Suddenly, though, they are beset on all sides by those vying for power through politics and intrigue. Valek's job - and his life - are in danger. As Yelena tries to uncover the scope of these plots, she faces a new challenge: her magic is blocked. She must keep that a secret - or her enemies will discover just how vulnerable she really is - while searching for who or what is responsible for neutralizing her powers.

Yes, the days of tasting poisons were much simpler. And certainly not as dangerous.
[GOODREADS] [AMAZON] [BARNES AND NOBLE]
After finishing the Poison Study I always felt that there was more to the story. More to Valek and Yelena, more to Ixia and Sitia, more to Janco and Ari, just more in general. I hoped that Maria would create a spin off of Poison Study but had resigned myself because we all know that Authors rarely do such a thing. Just because they liked how they ended there novel. So when I found out that she was coming out with this new study, I freaked! I more than freaked, I was jumping off the wall with joy! I loved the story with Valek and Yelena so getting this opportunity to read this novel was the best thing in the whole world.
It has been 8 years since Yelena came into her powers and escaped the fire world. 8 years since she entered Valek's office to because the next taste tester, and 8 years since that fatal night. One would think that things would get easier, but with her being the liason between Ixia and Sitia, her life is anything but easy. Assassins around every corner, old villains returning, and powerful allies becoming potential threats.
Yelena, as always, captivated me. Her emotions always get the best of me; Snyder has created characters that capture your mind and your heart. They come to life before you; capturing your imagination in such a way, that you simply can not put the book down. Yelena has suffered many losses and hardships, one would think she would get a break. Unfortunately, Yelena has a bigger obstacle ahead - losing her magic. Yelena sets out on a journey to not only discover why her magic has abandoned her but to also track down an old enemy. She is left vulnerable and alone as Valek is back with the Commander.
If you thought you knew Valek, well you might just find out more about him. The biggest thing I enjoy is that Shadow Study delves into Valek's past, a past that he rarely talks about. Old allies show up from out of no where and new allies walk right through the front door. He also has to deal with the Commanders wavering loyalty and wondering if he is keeping deep dark secrets. I love Valek. He is handsome, strong, and just plain awesome! Watching him and Yelena travel through life and grow as characters was simply beautiful!
Another reason why I loved this book so much was that it had three point of views: Yelena, Valek, and Janco's!!! Yes she wrote Janco's POV and I just fell in love with him all over again. It was just simply UGGHHH!
The plot as always is complicated. You never know what happens next and that is the great thing! The ending...I will just say that...the ending my darlings was simply perfect. My ownly issue is the dry areas. There are a few dry areas that either needed to be spruced up or deleted. Which was not to bad to get through but it definitely needed some pushing. On a positive note BUY/RENT/BORROW this book. You will be blown away by the magic that is laced through the spine.
*This book was given to me by Maria V. Snyder to give an honest review, this whole review/rating is my own opinion and no ones else's.*