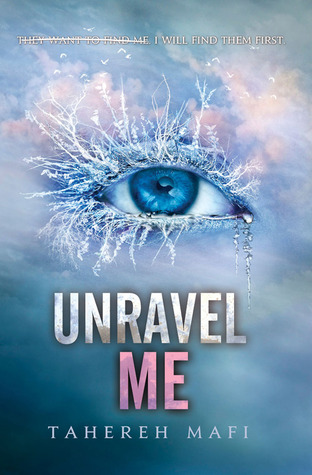 Name:
Unravel Me (Shatter Me #2)
Author:
Tahereh Mafi
Number of Pages:
461
Publisher:
HarperCollins
Date Published:
February 5th, 2013
Source:
Bought
Rate:
4.5/5
tick
tick
tick
tick
tick
it's almost
time for war.

Juliette has escaped to Omega Point. It is a place for people like her—people with gifts—and it is also the headquarters of the rebel resistance.

She's finally free from The Reestablishment, free from their plan to use her as a weapon, and free to love Adam. But Juliette will never be free from her lethal touch.

Or from Warner, who wants Juliette more than she ever thought possible.

In this exhilarating sequel to Shatter Me, Juliette has to make life-changing decisions between what she wants and what she thinks is right. Decisions that might involve choosing between her heart—and Adam's life.
[GoodReads][AMAZON]
Hello all my lovely readers, I am sorry it has taken me forever to post this dang review! I have so many to get up and stuff just keeps getting in the way...well no more excuses! Let's do this!!
I had read Shatter Me a good year ago and I decided to finish the series after being recommend the second and third book, a good million times. Picking up Unravel Me had to be the best decision ever, because as of lately I have been in a big reading stump! Unravel Me was a perfect book to get me out of my reading issue and it blew my mind. Tahereh Mafi has created a world full of wonder and despair!
It took me until the end of Unravel Me for me to actually like Juliette. I get it she had a shitty life. She was locked up in an aslyum where she was treated like a ghost, non-existent. Yet through this book she was consistently a whiner. " I don't wanna do this, I don't wanna do that. DON'T TOUCH ME OR YOU WILL DIE A HORRIBLE AND PAINFUL DEATH!!!!" Talk about dramatic. Yet, through the plot line she did grow. Of course it wasn't until the end but she did grow a backbone of a sort. I liked Juliette she cared, even though it did not benefit her, she care about the safety of others. She just wanted to help in any way possible.
Now her relationship with Adam on the other hand I did not like. How to put this Adam was one of those guys that thinks he can fix anything including people. That's why I think he was only in the relationship in the first place. He viewed Juliette as a fixer upper. Not cool. I never really liked Adam, he was always keeping Juliette in the dark, never telling her anything. He was a secretive dude. So it is safe to say I am a complete team Warner.
I love everything about Warner. His dark side and that secretive sweet side. He has more skeletons in his closet than an actual cemetery. Yet the only thing he has ever cared about in his life was Juliette. Strange how the bad guy turns out to be something else...not spoiling anything!
My views on the plot line...amazing. I loved what Mafi did with it, she knew what she wanted and she went for it! Every secret, every lie, every move was pure. There were mind blowing revelations and just some down right kick ass action. Way to go Mafi!!!
I totally would recommend this series to all of you! Buy it! Just go out and buy the whole dang thing you will not be disappointed!
Read On!!
xx Kat xx