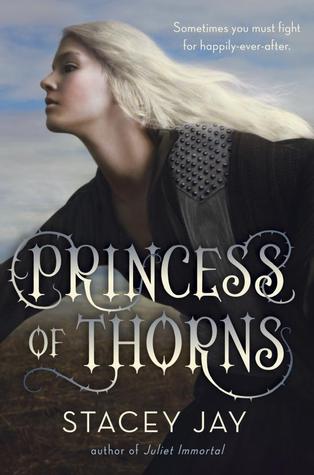 Name:
Princess of Thorns
Author:
Stacey Jay
Number of Pages:
400
Publisher:
Delacorte Press
Date Published:
December 9th, 2014
Source:
Was given to me by the Publisher for an honest review.
Rate:
4/5
Game of Thrones meets the Grimm's fairy tales in this twisted, fast-paced romantic fantasy-adventure about Sleeping Beauty's daughter, a warrior princess who must fight to reclaim her throne.

Though she looks like a mere mortal, Princess Aurora is a fairy blessed with enhanced strength, bravery, and mercy yet cursed to destroy the free will of any male who kisses her. Disguised as a boy, she enlists the help of the handsome but also cursed Prince Niklaas to fight legions of evil and free her brother from the ogre queen who stole Aurora's throne ten years ago.

Will Aurora triumph over evil and reach her brother before it's too late? Can Aurora and Niklaas break the curses that will otherwise forever keep them from finding their one true love?
[GOODREADS] [AMAZON] [BARNES & NOBLE] [BOOKTUBE CHANNEL]
So I just want to start off and say wow...just wow..Yup that's the review. No joking,
Princess of Thorns
took my mind and through my right into the middle of this medieval realm. Which I quite enjoyed because many of you know how much I love my prince's and sword fights. This book took me on a wild tale and even after it was finished would not let me from it's grasps, as I thought about it all the time.
I want to say, also, whoever did the cover for this book, I absolutely love you. This cover, although simple, displayed the emotions and the idea of
Princess of Thorns.
Once upon a time there was a girl and boy, both a prince and a princess, doomed to their fated paths unless they find the one "true love."
I enjoyed everything about Aurora, and that is saying a lot as someone who always tries to find one little inkling of something wrong in a character. Although Aurora did have her flaws, those are what made her perfect. I especially enjoyed her antics and with Niklaas it was even better. Aurora almost reminded me of a medieval Mulan, who is looking for herself, and dresses as a boy ready for combat. Which makes it all the better because Niklaas is oblivious to it. Aurora I believe captured the heart of many readers she is passionate, devoted, stubborn, and strong. All amazing attributes to a future queen.
Let us not forget about Niklaas, I honestly wanted to hit the guy. He is what I would consider a one of a kind SOB. All he cared about until about midway through the book was finding the princess and marrying her before his birthday...good grief! He was quite funny and oh so charming. It did not stop me from wanting to clock him once or twice. Although, I think Aurora took care of herself just fine. Niklaas intrigued me, even if he was an SOB. I felt as if he was hiding behind a mask of who he truly was and I just wanted to keep reading to find out!
Now you must be wondering, if I liked these characters so much, why did I give it a 4/5 rating. Well to put it simple, I felt like some parts could have been more serious. I also felt it took a long time to get to the end of the book, not that it's a bad thing, I was hoping for a little more push in the plot. I think a majority of my rating goes towards that I was anticipating the moment of the revealing of Aurora. Which I think honestly took way too long.
All in all I agree with the synopsis. This is a clash of Game of Thrones and Grimm's Fairy Tales, it was perfect. I was anticipating this book for awhile and it did not let me down.
Thank You to the publisher for sending me this book for review!
I HIGHLY recommend this book to anyone with a love of medieval fighting, snarky princesses, and desperate princes!!! BUY IT!
Read On!!!
xx Kat x