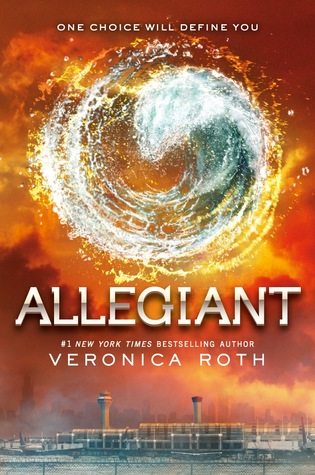 Name:
Allegiant (Divergent #3)
Author:
Veronica Roth
Number of Pages:
526
Publisher:
Katherine Tegan Books
Date Published:
October 22nd, 2013
Source:
Review (Bought)
Rate:
3.8/5
The faction-based society that Tris Prior once believed in is shattered--fractured by violence and power struggles and scarred by loss and betrayal. So when offered a chance to explore the world past the limits she's known, Tris is ready. Perhaps beyond the fence, she and Tobias will find a simple new life together, free from complicated lies, tangled loyalties, and painful memories.

But Tris's new reality is even more alarming than the one she left behind. Old discoveries are quickly rendered meaningless. Explosive new truths change the hearts of those she loves. And once again, Tris must battle to comprehend the complexities of human nature--and of herself--while facing impossible choices about courage, allegiance, sacrifice, and love.
[Summary from Goodreads] [AMAZON]
Continuing on with the epic story of Tris and Tobias, they have had their fair share of ups and downs. Yet it seems that with every obstacle completed another jumps in their way.
I must be honest, and say that I did not enjoy
Allegiant
as much as the first two books in the series. Through most of this book I felt empty, there was something missing, something really big that was not included in this book I do not know what.
Allegiant
through me through a loop hole, what I thought I knew was wrong, and what I believed was going to happen was definitely wrong.
Reading
Allegiant
I noticed many reacquiring themes: trust, mistrust, secrets, and loyalties. It seemed that everyone one had a secret, and no one was to be trusted.
I loved each of the characters. Each growing stronger, each getting the second chances that they deserve. Tris has definitely grown into her self, she knows what her destiny is and she strives for it.
Unfortunately the path she is striving for is pushing her further and further from Tobias. Which upset me a great deal (But we will get to that later). When going into this unknown world, I would not say Tris adjusted greatly, but she took it by stride. I enjoyed watching Tris grow into herself in these past three books. The level of deepness cannot be expressed simply by words.
In
Allegiant
, Tobias is struggling with himself. He finds himself a low life compared to others, he thinks that he was an accident. Just because his genes were broken. It took me awhile to really understand the whole genetics concept until I actually got it. I kinda just wish Tobias wasn't so stubborn all the time! Between him and Tris I have no idea who would win the most stubborn contest. Tobias as a whole has grown, he has come to accept many aspects of his life and start to thrive.
The romance between Tobias and Tris, is strained. I felt at some parts they were very strong, they trusted and loved each other. Yet at many other parts they were keeping so many secrets from each other and going behind each others backs. I honestly started to get frustrated at this point, I just wanted a little bit of romance!! Can't a women ask for that!
Allegiant
will take you on a whirl wind of emotions. I was confused, happy, angry, sad, you name it I was that emotion. I felt deeply with all the character's, and felt I had a connection to every one of them.
Yet, I was upset with a few things. Sometimes it felt like the plot strayed off into a new direction that was never really talked about, I might not be correct on this, but it is what I felt. Now the ending, I get I really do. I give kudos to you Veronica Roth for being strong and doing an ending like the one you did. But why!!? I honestly cried for a good day and a half just because of that ending. The way it ended could have been avoided!
All in all I quite enjoyed myself, the writing is perfect, the character's were great...so I would buy this book but probably borrow from a friend or library first just to make sure!!
Read On!!!
xx Kat xx