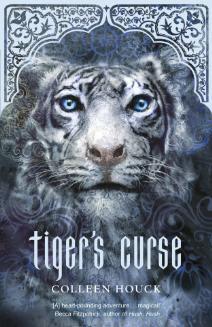 Name:
Tiger's Curse
Author:
Colleen Houck
Number of Pages:
403
Publisher:
Sterling
Date Published:
January 11th, 2011
Source:
Review (Bought)
Rate:
4.5/5
Passion. Fate. Loyalty.

Would you risk it all to change your destiny?

The last thing Kelsey Hayes thought she'd be doing this summer was trying to break a 300-year-old Indian curse. With a mysterious white tiger named Ren. Halfway around the world. But that's exactly what happened. Face-to-face with dark forces, spellbinding magic, and mystical worlds where nothing is what it seems, Kelsey risks everything to piece together an ancient prophecy that could break the curse forever.

Tiger's Curse is the exciting first volume in an epic fantasy-romance that will leave you breathless and yearning for more.
[Summary taken from GoodReads]
[Amazon]
Ok, so I am going to make a confession I thought Tiger's Curse was going to be stupid. I honestly have no idea why really. I have seen it many times in the library and on the shelves at B&N's but never picked it up. Well I did, and let me just say OH MY FRICKEN GOODNESS. Colleen Houck, I love you!!!
Kelsey thought she was going to have a normal summer, well as normal as it can get from working at a circus. She was hired on to help with the animals and sell the tickets, but while there she comes across the circus tiger: Ren. Ren, who is unlike any other creature on this planet. Creating a close bond, Kelsey and Ren become inseparable, yet with one wish that all changes. Kelsey is now embarking on a quest where she could possibly her life and her heart.
Ok, so I love this book, like I am in love with this book. I love Kelsey, she is: strong, sarcastic, and determined. Which are all great characteristics! I loved her through out the book, she was not stupid with her decisions. She didn't just throw herself into the adventure saying, Yay!!! She was cautious and planned things out. Which, you really don't hear about. I will admit that I did get frustrated with her quite a bit, it was the way she treated Ren. She just ugh!! Why Kelsey, just WHY!!
When you read books it is always the same stuff: vampires, werewolves, and fairies OH MY!! Why not a tiger that turns into a hot, sexy, drool worthy guy named Ren. Not only that he is an Indian Prince and I have never read a book based out of India, England yes, not India. So this was very refreshing. I love Ren, I mean he turns into my favorite type of animal and he is a prince (no offense to my boyfriend ;) that is fricken awesome!!
This is how I felt about Ren!!
There were many other character's that I loved to, but we would be here all day if I kept talking about them. The Ending that is all I am going to say, the flipping ending to this book drove me up the wall and back down again. I don't know whether to hate Kelsey or sympathize with her!! Ugh, the problems of a book addict!!
The world and Indian tales were well written, I was pulled in so quickly. Tiger's Curse does not even have to become a movie since I could already see it so clearly. I loved the mythology and Durga. You never get to hear about that stuff in all the other books. Houck, this book was amazing and I can not wait to read the next one!
Read On!! Or more like read this book, I have provided a link at the top to Amazon (Sly dog that I am ;)
xx Kat xx