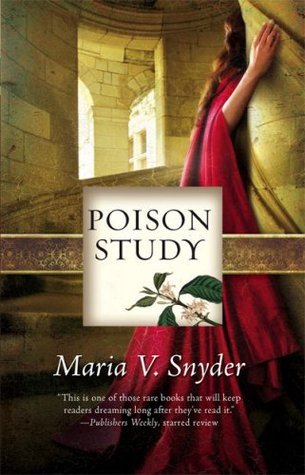 Name:
Poison Study (Study #1)
Author:
Maria V. Snyder
Number of Pages:
412
Publisher:
Mira
Date Published:
March 1st, 2007
Source:
Given for Review
Rate:
5/5
About to be executed for murder, Yelena is offered an extraordinary reprieve. She'll eat the best meals, have rooms in the palace—and risk assassination by anyone trying to kill the Commander of Ixia.

And so Yelena chooses to become a food taster. But the chief of security, leaving nothing to chance, deliberately feeds her Butterfly's Dust—and only by appearing for her daily antidote will she delay an agonizing death from the poison.

As Yelena tries to escape her new dilemma, disasters keep mounting. Rebels plot to seize Ixia and Yelena develops magical powers she can't control. Her life is threatened again and choices must be made. But this time the outcomes aren't so clear...
[ Summary taken from GoodReads ]
It took a lot of thought process to even begin thinking what I want to say about Maria Snyder's book Poison Study. I am a reader that usually likes things to be told how it is rather than skirting around the edges to the actual truth. In this book you are given just that, nothing is ever sugar coated, you are thrown right into Yelena's ugly situations. And if you are looking for a book that starts off all sweet and cuddly then this book isn't for you. The setting takes place beneath a castle where Yelena is being held for a better part of a year. Instead of going to her execution like she had thought she was, ready to meet death head on, instead she is given a choice. Become a food taster or become beheaded. Of course which one sounds more pleasant? The food tasting. Living a little longer than planned sounds better than beheaded.
Poison Study is beautifully written, at a first glance it would seem that the book is simply put and not much to it. Yet that is exactly what Maria V. Snyder wants. She wants us to look at it from our own eyes, using our imagination to see what she has put down on paper.
This book is far from lacking in detail. The fight scenes are well written never leaving a detail out. If you are looking for a book that has action well this is for you. I enjoyed the banters and the sword play quite a lot. As it is one of my favorite types of genres. You are also given insights into the magical world and what people, especially the commander's, belief in magic is.
You can't help but be swept up into Yelena's world. She was accused of a murder that in every aspects was the right choice. Her decisions were based off a dire need, a will to live if you may. And I couldn't help but agree with what she did. Yet you don't find out the whole story until two thirds of the way through. So through a majority of Poison Study you are wondering what she did, although after reading it again, it does throw off hints and clues to what conspired. Ixia is a world where if there is a capital offence the only option is death.
That is why Valek became my favorite character... not just because I got a crush on him. He is quite attractive but he gave Yelena a second chance when he didn't have to. He could have just let her execution take place but he saw potential. I guess that is why I love him so much, I like second chances. I also like Yelena as a character she is strong willed even though she has lost everything.
Poison Study is written in that medieval era so expect to see kings, generals, wars, fighting, and the romance. Especially the romance, which is a little different. Valek and Yelena's relationship start off as just an employer and employee type of stance. He wants the job done and Yelena wants to live so at the beginning it is a win win situation. But as the book progresses so does their need for each other. It isn't as visible as it would be in most books but by the end you know that there is a strong connection there, one that is unbreakable.
Poison Study was also very political and I am one that does not enjoy political parties, sides, and power. Through Yelena's eyes you can see the political struggles and fights. In every political system no matter how great there is always that one power driven being. That has not changed in this book, you can see those that would love to have the Commander's job and those that would love to dispose of him on the spot. Of course with Valek standing there they wouldn't as he is the Commanders wing man for a better word. If there is dirty work to be done well there is only one the Commander would call on.
The Poison Study is your typical adventure story. Yet it has so much more meaning behind it. Maria V. Synder has created strong, intelligent, and brave characters that are willing to work with one another. She does not lack on her detail, this is a blunt story at times, which makes it all the better. Yelena by the end was my favorite character she views her self small in the big scheme of things. Yet she plays such a large roll in everything that it is hard to ever view her as a small meek girl. She is willing to what she thinks is right, even though she is not a fan of killing. Although she is an independent character, I do not think that without Valek she would become her full potential. Valek make her stronger but physically and mentally. And without that she wouldn't be able to love like she did.
The Poison Study definitely should be put on her shelf to read!
Read On!!
Hey guys I would love it if you could spread the word: tweet it, comment, share it!!
xx Kat xx