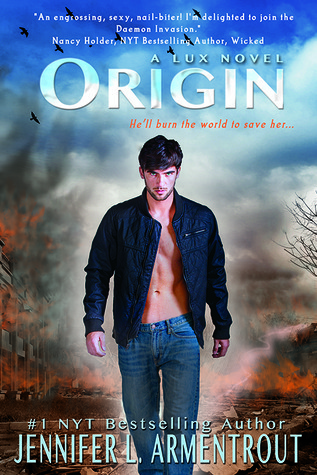 Name:
Origin (Lux #4)
Author:
Jennifer Armentrout
Number of Pages:
364
Publisher:
Entangled
Date Published:
August 27th, 2013
Source:
Review (Bought)
Rate:
4.5/5
Daemon will do anything to get Katy back.

After the successful but disastrous raid on Mount Weather, he's facing the impossible. Katy is gone. Taken. Everything becomes about finding her. Taking out anyone who stands in his way? Done. Burning down the whole world to save her? Gladly. Exposing his alien race to the world? With pleasure.

All Katy can do is survive.

Surrounded by enemies, the only way she can come out of this is to adapt. After all, there are sides of Daedalus that don't seem entirely crazy, but the group's goals are frightening and the truths they speak even more disturbing. Who are the real bad guys? Daedalus? Mankind? Or the Luxen?

Together, they can face anything.

But the most dangerous foe has been there all along, and when the truths are exposed and the lies come crumbling down, which side will Daemon and Katy be standing on?

And will they even be together?
[ Summary taken from GoodReads ]
Jennifer Armentrout is incredible. She has moved and weaved her way to the top of my favorite authors. She has a way with words, plot twists, and her dialogue.
Origin
out of all the Lux series was the best written and had the best plot out of any of the Lux series. Although that is subject to change once I have read the last book.
She has created a world that is beyond imagination and her characters... oh goodness her characters are beyond my expectations. I have never read a book where there was not at least one problem with the character, especially through a series. I could not get enough of them. Armentrout has done an amazing job at getting me sucked into the story and feel all those heartbreaks, the pain, sadness, and anger.
Origin
took everything to a whole new game.
The one thing I dislike the most actually became my favorite part of the book -
Origin
has two POV's. You get to see through the eyes of not only Katy but also Daemon. I usually am not one for a book having more than one point of view, since I have had upsetting experiences with it. Yet, I should have known better than to worry with this series. It was actually nice because I got to see and collect more information that I did not know before. I feel that this book truly needed the two point of views just so the readers could get what each of our main characters were feeling and to get that information or hint that we would not have gotten from the other character.
Another aspect I loved was the delving deeper into the story. In
Origin
you get more information than in any other book. There is no play around any more it is the big deal. Did I get overwhelmed at times with all the information getting thrown at me? Yes, but I was ok with that. I finally was getting the answers that I had wanted. I also got a better understanding of the Lux and their past. Yet that wasn't even the best part. You are introduced to something so scary and yet so fascinating. I was mind blown and I had no idea what to feel about it. You will have to read to find out!
I was introduced to new characters and old characters. I never felt like a character did not fit, nor did I feel like a character served no purpose to the book. Ever single character belongs in the book because each serve a big purpose. My favorite new character had to have been Archer. He was always so serious, he did not take any shit, and he was ready to strike at any moment. Archer also has a big secret that changes the whole game.
I was very please with the fourth installment in the Lux series. I was never disappointed.
Origin
was a page turner waiting to be finished.
Read On!!
xx Kat xx