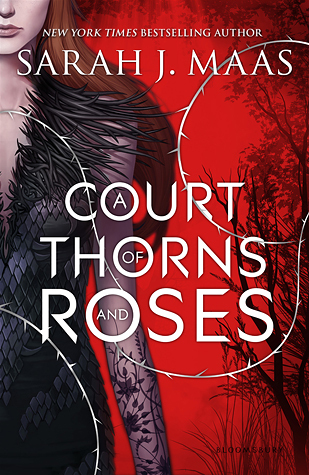 Name:
A Court of Thorns and Roses (#1)
Author:
Sarah J. Maas
Number of Pages:
419
Publisher:
Bloomsbury Children's
Date Published:
May 5th, 2015
Source:
Bought
Rate:
ALL THE STARS IN THE WORLD
When nineteen-year-old huntress Feyre kills a wolf in the woods, a beast-like creature arrives to demand retribution for it. Dragged to a treacherous magical land she only knows about from legends, Feyre discovers that her captor is not an animal, but Tamlin—one of the lethal, immortal faeries who once ruled their world.

As she dwells on his estate, her feelings for Tamlin transform from icy hostility into a fiery passion that burns through every lie and warning she's been told about the beautiful, dangerous world of the Fae. But an ancient, wicked shadow grows over the faerie lands, and Feyre must find a way to stop it . . . or doom Tamlin—and his world—forever.
Perfect for fans of Kristin Cashore and George R. R. Martin, this first book in a sexy and action-packed new series is impossible to put down!
[GOODREADS][B&N][AMAZON][BOOK DEPOSITORY]
You know those books that you can't put down because they constantly have your heart racing and you are dying to read the next page because it could mean either life or death - in the literal sense. Well that was how I felt through every page of this magical bind up of A Court of Thorns and Roses. To top it off just the other day I found out that this is going to be a series!! A fricken series! Sarah J. Maas is my idol and I hope to follow in her footsteps one day as a writer.
I find my favorite authors every once and awhile but once I picked up a Sarah J. Maas book, my heart stopped working! Her writing is beyond exquisite and it is shown in A Court of Thorn and Roses. She has taken Beauty and the Beast and has created such a detailed story that I could see it as if the plot was being played out right in front of me.
Feyre (pronounced: Fey-ruh) who has given an unbreakable promise to her mother is struggling to survive and take care of her family. A family that once had a great name and great money. A family that does give a rats ass if Feyre returns home alive - but her promise is written in stone. In the midst of trying to survive another winter Feyre does the unthinkable and kills a wolf - a wolf truly to large to be a wolf in the first place. With that one action Feyre has set off a trip affect - each dominoe falling into place.
Coming to collect retribution for the dead wolf is a beast like no other. Feyre has a choice to either have her family be murdered along with her or to be taken beyond the wall to the land of Prythian (pronounced: Prith-ee-en). Then Feyre not only finds out her capture - Tamlin - is not only an elf but someone of great power. Although Feyre would love to escape her imprisonment she can not help but be drawn to this powerful, sexy man!
Feyre at the very first sentence became a character that I could instantly connect to. I always have my favorite characters in each book and usually it's only one but I could not just pick one character has my favorite as there are three that have captured my heart. But Feyre was the top because of her strong personality and her heart to help her family survive - even if they are not the most selfless family members. While reading the interactions between Feyre and her sisters I could not help but think of Cinderella - just the whole situation screamed evil sisters! How she was able to keep a promise was beyond me - I would have let them fend for themselves if I had my way.
Of course then there is the fae's - Tamlin and Lucien. I fell in love with the brooding, dark, and sexy Tamlin instantly there was something different about him and it wasn't the mask that was fovever stuck to his face. No it was his passion and his strong personality that made him become my next book boyfriend! Lucien also became a favorite of mine as he reminded me of an annoying big brother with a swinging temper. Feyre, Tamlin, and Lucien - in my eyes - fit so perfectly together as characters and to read the development between each of them was astounding.
Of course the plot also made me fall hard for this fairytale retelling. The idea of this dark shadow crossing the Fairy world and even the background story between human and Fairy kept me at the edge of my seat. The book was dark and sexy throughout and I enjoyed every minute of it. To find out that this is being made into a series has just made me love the author and this book so much more.
If you have not read any Sarah J. Maas books or even A Court of Thorn and Roses you are missing out on some of the best literature ever written.
BUY IT!