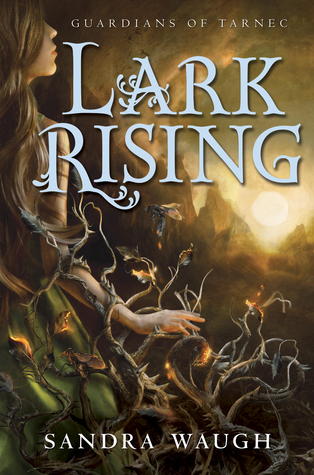 Name:
Lark Rising (Guardians of Tarnec #1)
Author:
Sandra Waugh
Number of Pages:
384
Publisher:
Random House Books for Young Readers
Date Published:
September 23rd, 2014
Source:
Given to me by the Author and Publisher for an honest review
Rate:
4.5/5
Lark has foreseen two things—she will fall for a young man with sage green eyes,and he will kill her.

Sixteen-year-old Lark Carew is happiest close to home, tending her garden and gathering herbs for medicines. But when her Sight warns her that monsters called Troths will soon invade her village, Lark is summoned on a journey to seek help from the legendary Riders of Tarnec. Little does she suspect that one of the Riders, Gharain, is the very man who has haunted her visions. Or that the people of Tarnec have called her there for another reason: Lark is the Guardian of Life, the first of four Guardians who must awaken their powers to recover four stolen amulets. Together, the amulets—Life, Death, Dark, and Light—keep the world in Balance. To take back the Life amulet, Lark will have to discover her true inner strength and give in to a love that she swears will be her downfall
[Summary taken from GoodReads] [AMAZON]
Life, Death, Dark, and Light all coincide with each other to make the world a better place, a balanced world. Each having it's own story and it's own Guardian to protect them. I found Lark Rising to be a fantasy filled adventure, which kept me entangled all the way until the very end!
Ok first off let me say this IT HAS A MAP, we all know how much I love my maps in books. It shows time and dedication done by the author to make this book come more alive, it also gives me something to reference on when I am like: "Ok, so where is she now!!" Which I absolutely love, that was me just fangirling over a map...wow
Lark has grown up with the gift of sight from the time she was a babe. While some think her gift is useful, she finds it to be a curse: the emotions involved with the sight are just to hard for Lark to handle, especially the human emotions. While Lark would rather be tending to her gardens and forgetting that she has this horrible sight, destiny has another plan for her. With the village under attack Lark must rise above everyone else and go and find the Rider's of Tarnec.
I honestly loved everything about Lark. I liked how she was shy, but very bold. I liked that she did not like her gift of sight. The reason is because I find that a lot of character's in books tend to use their giftts for the worst, not all the time but lately it has been that way. I loved that Lark would put her grandmama and cousin Evie above everyone else, including her own heart. Lark, although, wishes she did not have to go find the Rider's of Tarnec, knows that it is her destiny. After all she was given the three signs. And in this world signs mean everything.
Although, Lark has no idea that she is about to be led down a path, to finding out she is one of the four Guardians, specifically the Guardian of Life. Which takes her on a far greater path and one that leads her to Gharian.
Gharian, I just swooned over him, is the one that haunts Lark's dreams. Whether they are good or bad, that is for you to find out ;). I found Gharian to be a refreshing second character and love interest. Just because he hated Lark and I mean truly hated her! I always find that the love interests make there moves right away, so this was refreshing. Gharian is not without his deep dark secrets though, and while he would love to ignore this deep, on a magical level, connection. He simply can not ignore Lark.
I honestly found nothing wrong with Lark Rising! I even skimmed through it, just to see if I missed something, now out of smite or anything. It has just been a long time since I have found a book that is almost flawless, were there parts that could be better absolutely. But what book does not have those parts.
The only thing I would have to say, is the language used it the book. It was not bad at all, it just took me awhile to get into the swing of it, since it was an old english/medieval language. Which just tells me that the Sandra did an amazing job at bringing this story to life.
I honestly suggest you all go out and buy this book, I highly recommend it and I honestly can not wait for the next book!
Read on my fantasy lovers!
xx Kat xx
This was one of my Waiting on Wednesday Books!!!