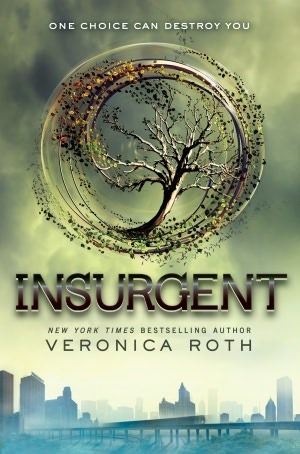 Name:
Insurgent (Divergent #2)
Author:
Veronica Roth
Number of Pages:
525
Publisher:
HarperCollins Children's Books
Date Published:
May 1st, 2012
Source:
Review (Bought)
Rate:
4/5
One choice can transform you—or it can destroy you. But every choice has consequences, and as unrest surges in the factions all around her, Tris Prior must continue trying to save those she loves—and herself—while grappling with haunting questions of grief and forgiveness, identity and loyalty, politics and love.

Tris's initiation day should have been marked by celebration and victory with her chosen faction; instead, the day ended with unspeakable horrors. War now looms as conflict between the factions and their ideologies grows. And in times of war, sides must be chosen, secrets will emerge, and choices will become even more irrevocable—and even more powerful. Transformed by her own decisions but also by haunting grief and guilt, radical new discoveries, and shifting relationships, Tris must fully embrace her Divergence, even if she does not know what she may lose by doing so.
[Summary taken from Goodreads] [AMAZON]
Tris has grown into herself. She has seen that things that cause nightmares and she has done things that can never be taken back. With political turmoil and the factions on the brink of war Tris must make decisions that no one can make for her.
I found Insurgent to be quite moving. It was both fast paced and delved deeper into the world of Tris and the world around her. What I found that I personally enjoyed was the beginning of Insurgent. This book takes off right where it ended. Many of the books that I read usually go over the character's and what happened in the last book. Those are things I already know so for Insurgent to jump right into it, was a big plus for me.
Insurgent definitely evoked a lot of emotions from me. I would not compare it to a roller coaster rather a tsunami or a tornado, would be better. At times this book made me enraged, enraged to the point I actually refused to read it any farther than what I had already read. Well...since I am writing this post I obviously finished it, but I like to be dramatic at times ;). I honestly was in turmoil I never knew who to feel bad for, since every single character in this book was effected in some way.
In this book I had a hate/love relationship with Tris. I loved how mature she has gotten. She is making choices on a daily basis that effects the whole outcome of the factions, of pretty much everything. I loved that ,although Tris is a strong character, you still get to see her weaknesses and fears. Not many character's are willing to express those types of emotions. Now, on the off hand, I did have a mixture of anger and frustration with Tris.
She was making choices that effected her relationship Four/Tobias and her friends. She was keeping more secrets than I keep, which is not many since I can't keep a deep dark secret worth my life....well I sorta can but that is besides the point. Tris was, at points in Insurgent, only thinking about her self. Which leads to some major issues later in the book. Yet, although I do not like what Tris did, I think it made the book more believable and exciting.
In Insurgent many of the other character's were in turmoil. Some suffering from losses and others harboring a lot of hatred. Each character: Christina, Caleb, etc. plays a contributes to this book, no matter how big the part.
The relationship between Tris and Tobias, while strained, is still intact. The each have their own demons to face, and at points they do face them together. I just wish that they faced them together more often, instead of holding back. They are as protective, as always, towards each other. I honestly believe they would go to the ends of the earth to be with each other no matter what.
Insurgent was definitely a good read! I found the writing to be exquisite. The world in which Tris lives in felt so real that I honesty could see every single detail. Nothing was left out. I enjoyed seeing all the character's develop - which every single character did change in Insurgent. I felt, at some points of the book, I was missing something, like the book itself was missing something...I am not really sure.
However,
I would definitely recommend you to buy this book! Now of course I would never force you.... ;)
Read on my Faction lovers (P.S those that would choose dauntless!!!)
xx Kat xx