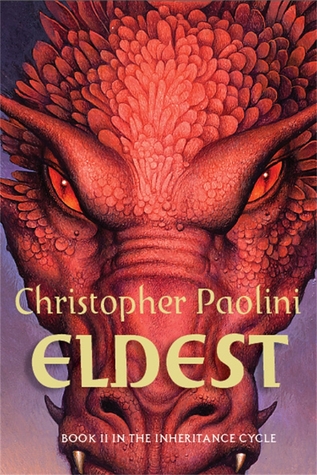 Name:
Eldest (Inheritance Cycle #2)
Author:
Christopher Paolini
Number of Pages:
668
Publisher:
Knopf Books for Young Readers
Date Published:
March 23rd, 2007
Source:
Review (Bought)
Rate:
4/5
Darkness falls ...Despair abounds ...Evil reigns ...Eragon and his dragon, Saphira, have just saved the rebel state from destruction by the mighty forces of King Galbatorix, cruel ruler of the Empire. Now Eragon must travel to Ellesmera, land of the elves, for further training in magic and swordsmanship, the vital skills of the Dragon Rider.

It is the journey of a lifetime, filled with awe-inspiring new places and people, each day a fresh adventure. But chaos and betrayal plague him at every turn, and Eragon isn't sure whom he can trust. Meanwhile, his cousin Roran must fight a new battle back home in Carvahall - one that puts Eragon in even graver danger. Will the king's dark hand strangle all resistance? Eragon may not escape with even his life .
[ Summary taken from GoodReads]
If you saw my copy of Eldest you would have thought that I beat it against a wall, I ran it over multiple times, and then I proceeded to put it in a blender. Of course I would never do such a thing a to my books, but I have read this book too many times to count. As my mother would say it was my bible (sorry if I insulted any one but this is what my mother said.) I carried it around to the point it started to fall apart at my finger tips. The pages almost turned to dust.
I give total applause to Paolini he has created the most imaginative world: dragons, elves, and dwarves oh my!
It is the perfect combination for me. There was not a moment of hesitation when it came to action and grief. I had barely turn the first page and BAM - action. Those are the best books, especially for these type of series. The characters, the words, the setting all came together to create a place that was beyond the wildest dreams.
I felt that Eragon changed the most since the last book. He has not fully matured yet, I believe, but he has grown into his role quite well - as the dragon rider. Of course, he is still arrogant of the world around him, but I feel with time he will come into his own. He also has his majestic dragon, Saphira, who will always be at his side no matter what. She is a true companion, her true beauty always shines through. When she feels like Eragon is stepping out of line she sets him in place. They are like husband and wife...but not.
The adventure and war drew me in like a how mosquito is drawn to light. I was definitely enthralled with the war. There was no lacking there. You have "undead people," magicians, and just the glories of war. Another added bonus to the book, although I don't know if I would call it a bonus, is the book is in two point of views: Roran and Eragon. It is a good combination but I have never really liked a two point of view book. Oh well, it was still really good!
Eldest is definitely on my top reads! I enjoyed a majority if not all the book. If you have not read this book you should and if you want to read this book than I have a review for it! Also I want to apologize that I have not done many reviews, I am getting on it.
Read On!!
xx Kat xx