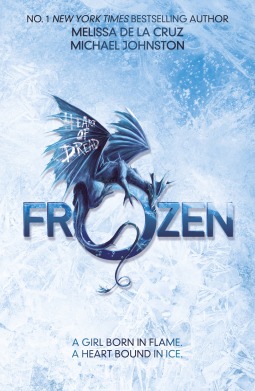 Name:
Frozen (Heart of Dread #1)
Author(s):
Melissa De La Cruz
Michael Johnston
Number of Pages:
365
Publisher:
Orchard Books
Date Published:
October 2nd, 2014
Source:
Netgalley (Given to me for an honest review, thank you!!!)
Rate:
4/5
From New York Times bestselling author Melissa de la Cruz and Michael Johnston comes this remarkable first book in a spellbinding new series about the dawn of a new kind of magic.

Welcome to New Vegas, a city once covered in bling, now blanketed in ice. Like much of the destroyed planet, the place knows only one temperature—freezing. But some things never change. The diamond in the ice desert is still a 24-hour hedonistic playground and nothing keeps the crowds away from the casino floors, never mind the rumors about sinister sorcery in its shadows.

At the heart of this city is Natasha Kestal, a young blackjack dealer looking for a way out. Like many, she's heard of a mythical land simply called "the Blue." They say it's a paradise, where the sun still shines and the waters are turquoise. More importantly, it's a place where Nat won't be persecuted, even if her darkest secret comes to light.

But passage to the Blue is treacherous, if not impossible, and her only shot is to bet on a ragtag crew of mercenaries led by a cocky runner named Ryan Wesson to take her there. Danger and deceit await on every corner, even as Nat and Wes find themselves inexorably drawn to each other. But can true love survive the lies? Fiery hearts collide in this fantastic tale of the evil men do and the awesome power within us all.
[Summary taken from GoodReads][Get it at AMAZON]
Mellisa De La Cruz has created an original world with a dystopian mix, which is what drew me in. I am always on the look out for new dystopian series and when I was given the chance to read this one, I really enjoyed.....I mean like it was fricken good!!!
A world where it is covered in ice. I loved that it was packed with both sci-fi and fantasy, it was definitely a new experience.
Natasha Kestal, a young blackjack dealer, with a very dangerous secret. I loved this character she was strong and very brave. She dreams and hopes of a far off land that has been untouched by the destruction man and earth. Which come's to pass when hearing of a land called "the Blue." Wanting desperately to go there she hires Ryan Wesson and his gang of misfits. But the real question who is most in danger?
I love that Natasha is strong and brave, as a majority of you know I love my heroine's strong willed. She also is one of the "marked." A dangerous thing to be in a dangerous world. She keeps her head down and does not let herself be seen or known. This was another thing that I loved about her, she does not prance around saying: "hey look guys I am marked!" I have read quite a few books that do that!
The setting takes place in Earth....or what is left anyways. After nature turning against it and mankind giving a hand in earth's destruction. Earth is covered in ice....a permanent ice age. The Earth is not what we would picture. Like in all dystopian books there is wealth and bad politics. I loved how Melissa twisted earth, I always love new types of dystopian. Anything that is different and it's own thing I will enjoy.
The character's were amazingly written. I definitely loved Ryan. He was loyal to a fault, strong, and very smart. I enjoyed his team as well. Character's and their personalities are what I look close at when I am reading any book. I look for how well the character's are developed and I looked to see if they were described to the point where I could physically picture them. Which they were, all the character's that were introduced I felt were well developed and I could definitely picture them! One thing that threw me off was the ages. I honestly thought a lot of the character's were older than what they actually were. Yet, it was not until I connected the dots when I understood why they all acted older.
I enjoyed the first book in the Heart of Dread series. It was well written, the character's where well developed, and I will definitely suggest this book to people that ask me what to read next. Like my sister!! She asks me all the time what to read next, got to love siblings. One last note to you this book will not leave you without a message or a saying!! So pick up this book you will love it....if not well fine than be that way ;)
Love ya'll

Read On!!!
xx Kat xx
P.S I was given this book for a completely honest review!! So thanks Netgalley and Orchard Books!