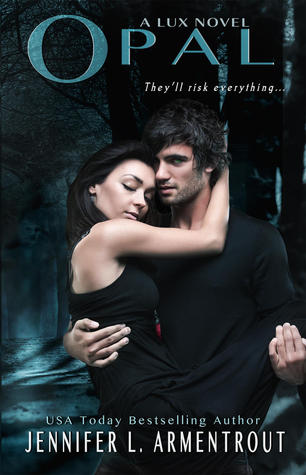 Name:
Opal (Lux #3)
Author:
Jennifer Armentrout
Number of Pages:
382
Publisher:
Entangled Teen
Date Published:
December 1st, 2012
Source:
Review (Bought)
Rate:
4.5/5
No one is like Daemon Black.

When he set out to prove his feelings for me, he wasn't fooling around. Doubting him isn't something I'll do again, and now that we've made it through the rough patches, well... There's a lot of spontaneous combustion going on.

But even he can't protect his family from the danger of trying to free those they love.

After everything, I'm no longer the same Katy. I'm different... And I'm not sure what that will mean in the end. When each step we take in discovering the truth puts us in the path of the secret organization responsible for torturing and testing hybrids, the more I realize there is no end to what I'm capable of. The death of someone close still lingers, help comes from the most unlikely source, and friends will become the deadliest of enemies, but we won't turn back. Even if the outcome will shatter our worlds forever.

Together we're stronger... and they know it.
[ Summary taken from GoodReads ]
Ok so I am searching through this book...where are the rest of the pages to this ending? I am pretty sure they are here somewhere...right!? Right!? Oh gosh please tell me this is not how she ended
Opal
... my heart just can't take this!
My feelings on the cliffhanger:
Katy is your average kind of girl. She loves her books, her blogs, and her laptop. When her father dies from cancer her mother and herself pack up and go to a dreary town out in West Virginia. She never thought anything interesting would come out of such a boring town. That is until her new neighbor steps out of his door and she is blown away but his hotness. Of course that is until he opens his mouth and all Katy wants to do is stab him. Katy gets wrapped up and enthralled in the mystery behind Daemon, but the moment she finds out it the adventure unravels. Katy is about to experience things she never thought she would go through: death, love, and hurt is waiting in her future.
Once again Jennifer Armentrout has created a delectable read that has readers all around the world swooning on their feet. If I hadn't said it the last few reviews of the Lux Series, this series keeps getting better and better. I loved seeing Daemon and Katy connecting at such a deep level that it made a puddle of goop. They are not without there flaws and stubbornness yet they are working things out like any other mature adult out there. Of course
Opal
gets a little bit deeper into the sexual tension, but since it is a teen book the details are not going to be there, sorry guys. Yet the book is still perfect without all that stuff.
Opal
has many surprises in store and not all of them are good.
Unfortunately those people, that no one wants around and wish they would have fallen off the face of the planet, appear out of no where ready to finish what they started. There we a few new characters introduced that I have a feeling will play quite a large part in the next two books whether it is good or bad; I am still trying to figure out. Betrayal was a very large theme in this book, when I finished
Opal
I could not believe my eyes of what I just read. If you could strangle a book character, I am pretty sure one would be non existent as of this moment. This book was just as much of a page turner as the last two, I needed to know what happened at the end. Of course when I did find out I wanted to rewind to a few chapters before hand. I will admit that this cliffhanger left me in a spin and I was quite frustrated. Yet I can not help but think that the whole book was pointing to that particular ending. I should have seen the signs.
Jennifer has created another mouth watering book that will keep you turning until the very last page, I suggest you go and pick this series up!
Read On!!
Share it, Pin it, love it!
xx Kat xx