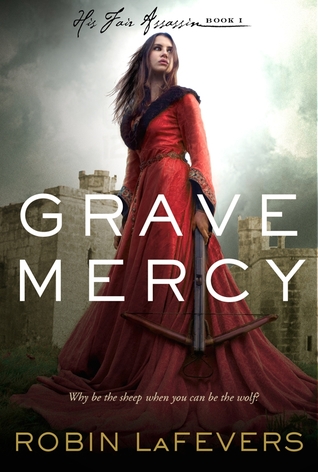 Name:
Grave Mercy (His Fair Assassin #1)
Author:
Robin Lafevers
Number of Pages:
549
Publisher:
Houghton Mifflin Harcourt
Date Published:
April 3rd, 2012
Source:
Review (Bought)
Rate:
4/5
Why be the sheep, when you can be the wolf?

Seventeen-year-old Ismae escapes from the brutality of an arranged marriage into the sanctuary of the convent of St. Mortain, where the sisters still serve the gods of old. Here she learns that the god of Death Himself has blessed her with dangerous gifts—and a violent destiny. If she chooses to stay at the convent, she will be trained as an assassin and serve as a handmaiden to Death. To claim her new life, she must destroy the lives of others.

Ismae's most important assignment takes her straight into the high court of Brittany—where she finds herself woefully under prepared—not only for the deadly games of intrigue and treason, but for the impossible choices she must make. For how can she deliver Death's vengeance upon a target who, against her will, has stolen her heart?
[ Summary taken from GoodReads ]
If you were given a choice what would you choose to be married off to a man that you knew wouldn't love you, or would you kill any man that you were assigned to eliminate? I have found that
Grave Mercy
was a perfect combination of bad ass and woman's intuition. It also has the most unique idea: a nun assassin, who would have thought!
Ismae was a mistake in her father's eyes, a child of death. When she became 16 years of age he sold her off to any man that was willing to take her as a wife, just glad to be rid of her. Escaping barely alive Ismae makes a run for the covenant. There she is too be trained in beauty, killing in the most efficient way, and many more deadly things.
First impressions are always at the top of my list and that will never change. The story was written beautifully given it is historical. I loved the era that was written and the details were given perfectly. The clothes, women's rights, the language all was written as if it was the 1400's. It was impeccable that these aspects were correct for this book to achieve it's main goal. I also enjoyed the map that is given at the beginning of the book, every time I was in need of reference as to where the setting was taking place that is where I was looking. Another helpful tool given is the people directory, It gives you all the characters in the book, so if you need to find out who that person is again then it is just a quick look to the front.
Ismae is a strong individual given that she had one hell of a life: her father not wanting her and a evil husband that wanted her dead. Her one mission through most of the book is to please the Covenant and of course be a handmaiden to death. She is definitely a tom-boy and is constantly being reprehended by the nuns that she needs to act on her womanly charms to get information from her victims rather than her fists. This I quite enjoyed because during the 1400's woman are meant to be silent, only spoken when spoken to, and head of the household - Ismae is none of those things, she is just to smart to do such things. Who would not love this character she is an assassin in beautiful dresses that lives in the medieval era!
What I found unnerving was that the beginning had all the action and the rest was get the information by womanly charms. It's okay for some parts, but some of it did need some sprucing up. It also got quite boring since a good portion of the book was fixated on politics and the well being of a country. Which is understandable, but come on guys I need some of that kick ass action as well.
Since I am a romance freak, the romance was another thing that must fit my expectations. Which it did, thankfully. The romance went at a beautiful pace, not slow nor speedy fast like Vegas weddings, just perfect. Ismae and Duval definitely make an amazing couple both strong and fierce yet willing to lean on each other when it calls for it.
All in all
Grave Mercy
was beautifully written and has a well developed idea.
Read On!
xx Kat xx
Hey all I was wondering if you could spread the love: Tweet, Share, & Love it!